Cyborg Skills Pack DLC Coming Soon to Dead Rising 2: Off The Record – Now You Can Buy Easy Mode
Have you picked up the latest addition to the Dead Rising series, Dead Rising 2: Off The Record? Do you find it too difficult? How does having the ability to purchase some DLC that enables you to turn our beloved Frank West into a literal zombie killing machine? The new DLC,detailed today, allows players to purchase the ability to upgrade Frank with indestructible body enhancements and an inhuman brute force. Additionally Frank will also have the ability to electrify zombies and humans alike with every single punch that he lands.
Easy mode anyone?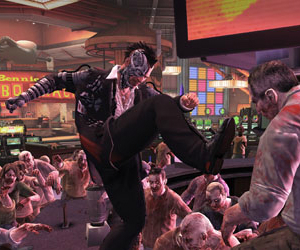 The in-game enhancements that you'll be able to purchase come October 25th, 2011 include:
Electricity damage added to all regular attacks
Increased overall damage on melee attacks
Increased damage output and magnified electric effects with electrical appliances
The Cyborg Skills Pack will be available in Europe for the Xbox 360 and the PlayStation 3 for 160 Microsoft Points and £1.59 on their respective systems. Do you think that releasing this pack is removing any form of challenge from Dead Rising 2? Is this the type of DLC that we can expect from games in the future? Let us know what you think in the comments below.