Geek in the Tubes – Episode 7: Real Life Videogames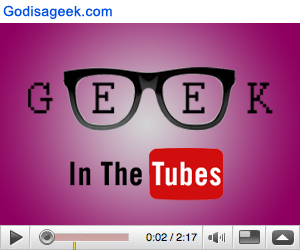 Hello and welcome to another episode of Geek in the Tubes, your monthly look at some of the best gaming-related videos which are available on the interweb. Unfortunately, Terry was unavailable this month to produce this episode, but worry not as I've stepped in with my own selection of fantastic videos.
This week's theme is Real Life Videogames, which in a nutshell is a look at what videogames might be like if they were in fact real. Either that or these are parody videos of games that are set in the real world.
First up we have this video made by a gentleman by the name of Rémi Gaillard, who decided to dress up as Mario and take Mario Kart onto the streets. I should probably add a warning here that you shouldn't try this yourself, mainly because I think you will get arrested.
Sticking with Mario, next we have a video which shows what Super Mario Brothers might be like if it was actually set in suburbia.
Remember when you used to play the Pokemon games on the Gameboy and wish that the Pokemon were in fact real and you could legitmately spend your time wandering around battling others and trying to catch them all? Well this incredibly well made fan trailer for a live-action Pokemon film takes that dream and turns it into reality.
Finally we have another fan-made production; a short film set in the Portal universe. Whilst it is a bit longer than the other videos in this week's edition of Geek in the Tubes, it's definitely worth watching all the way through. It certainly puts some Hollywood blockbusters to shame.
And that's it for this month's Geek in the Tubes. Terry will be back next month with more videos for you to enjoy.