You Want More Craziness About Lollipop Chainsaw? You Got It in the Form of a New Trailer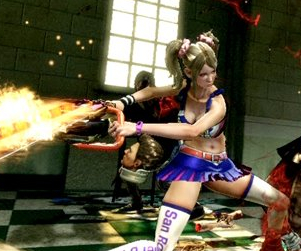 Juliet Starling from the upcoming Lollipop Chainsaw may be your stereotypical, chirpy American cheerleader, but with her chainsaw at hand she becomes a zombie killing machine. San Romero High School is her battleground against these "icky" creatures that won't leave poor little Juliet alone.
But Ms. Starling will be facing off more pressing foes in the game too. These foes are called the Bosses of Zombie Rock. Among many of the bosses in the game, Juliet will be trying to tear many genre loving foes apart like; Zed (the punk-rockin misfit), Vikke (the king of Viking metal), Josey (the master of funk) and Mariska (the queen of Psychedelia).
As if we didn't know this was mental already, the game from Grasshopper and Suda51 keeps cranking up the crazy dial as every bit of information is released about the game. Excited yet?

Lollipop Chainsaw is set for release on 15th June for Xbox 360 and PlayStation 3