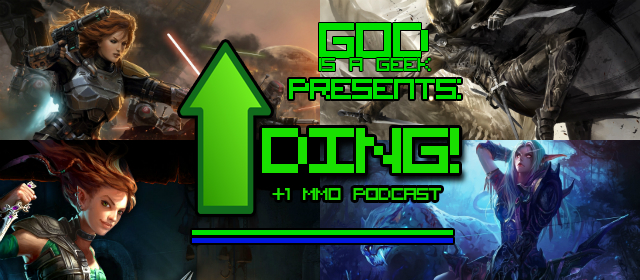 It's Friday morning and that can only mean one thing, well, it probably means a couple of things, but the most important thing is that there's a new episode of your favourite MMO podcast available.
Are you ready to Ding?
On the eleventh episode of Ding! we join Calvin, Martin, and friend of the family, and series regular, Trey Douglas (of Geeky.ly fame) as they talk about as much information coming out of the MMO world as they possibly can, hopefully within an hour.
This week our heroes talked about some of the information coming out of the World of Warcraft regarding the upcoming expansion Mists of Panderia as the press embargo was lifted on Monday. A boatload of information followed. They talked about the usual MMO news coming out of Star Wars: The Old Republic as well as some interesting news regarding the upcoming Kindoms of Amalur MMO, then they got onto the main event, an interview with one of the producers of Star Trek Online, Steve Ricossa, Jr (perhaps better known as Salami_Inferno).
If you want to get in on the discussion, or just leave us some questions to talk about on next week's show, then comment in the box below, and don't forget to rate and review the podcast in iTunes!
See you next week!
You can subscribe to Ding! on iTunes and Feedburner, or follow the show on Twitter, @DingPodcast.
Ding! is a part of the GodisaGeek Podcast Network. Every Friday there will be a new episode.