KONAMI Announce Frogger: Hyper Arcade Edition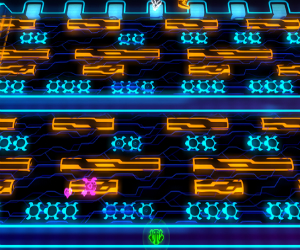 For a character that has made its name by playing with traffic it may be surprising to hear that Frogger turns 30 this year. It may also shock you to know Hyper Arcade Edition will be the 26th game in the series, a series that has seen titles such as 1997's Frogger outsell PlayStation 1 classics like Resident Evil 2 and Final Fantasy Tactics.
Seemingly inspired by the success of Pac-Man's successful XBLA reboot, Frogger: Hyper Arcade Edition adopts a similarly neon esthetic. Different skins will also be available though with original 8 bit, Castlevania and even Contra so far announced.
Brand new game modes including Tile Capture, Battle Royal and Freak Out have also been revealed, but with no actual explanation to accompany them, it's hard to say exactly what they entail.
You'll be able to see if the new Frogger is worth the hype when it releases on XBLA, PSN and WiiWare this spring.