Metal Gear Solid HD Collection Vita Analysis
The Metal Gear Solid games hold a special place in a lot of gamers' hearts. Many, including myself, grew up on these instant classics.
Earlier this year, Metal Gear Solid 2: Sons of Liberty, Metal Gear Solid 3: Snake Eater and Metal Gear Solid: Peacewalker were released in a collection that made fans of the bipedal tank's escapades salivate. This set proved to be one of the benchmarks for what a HD Collection should be: Robust and quality. This assortment of classics has come to Sony's handheld, albeit without Peacewalker, but if you're looking for tons of gameplay and fleshed out stories to take with you on the go, Metal Gear Solid HD Collection on PS Vita could be perfect for you, but since we've already reviewed it on Xbox 360 and PlayStation 3, we thought we'd take a look at what is new to the Vita version.
Metal Gear Solid 2: Sons of Liberty sees the player take on the role of the gruff hero Solid Snake initially, then the blonde – not so gruff – Raiden in an attempt to stop the world from complete warfare and the rescue of a very important hostage. In MGS 3: Snake Eater, the player is taken back to the mid-60′s and gets to control Solid Snake's ol' man, Big Boss himself. Within the medium, these two PlayStation 2 games are seen as masterpieces by a multitude of people, and for good reason. The narrative they tell, at times can admittedly be convoluted but overall, is of a really high standard, even today.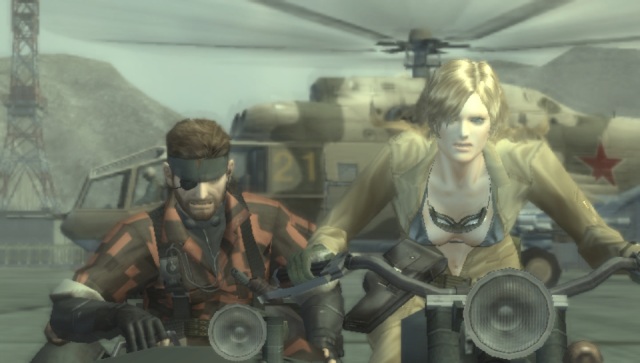 The versions of MGS 2 and MGS 3 on offer here are Substance and Subsistance, respectively. In layman's terms, that means you get some extras like the original Metal Gear and Metal Gear 2 for the MSX 2 to broaden your video game history, along with added VR missions and Snake Tales. As well as that, you can use the third person camera view that was implemented in the Subsistance version of Snake Eater, rather than the old school MGS style camera in Metal Gear Solid 3.
It must be said, the games look fantastic on the Vita's OLED screen. Environments look sharp and gorgeous. The move over to a smaller screen hasn't diminished the aesthetic of a Russian jungle, or New York decontamination facility. The sound remains some of the best in all of video games too. Harry Gregson-Williams' take on the Metal Gear Solid theme in MGS 2 still sends shivers down my spine, and the James Bond-esque Snake Eater theme is simply marvellous. In hindsight, some of the voice-over work is a little over dramatic, but at the same time, reaffirms the fact that David Hayter is iconic in the role of Snake.
The feeling of elation when revisiting Hideo Kojima's vision is overwhelming and new players would get just as much fun from the stealth/action series. However, some things will obviously feel dated. The inability to move and shoot at the same time could deter those who aren't going back for nostalgic reasons, and the inability to change the static camera to a regular, modern day third person camera in Sons of Liberty would also annoy some players that didn't grow up in that generation, I'm sure.
Only a smattering of the Vita's unique controls have been used. You can zoom in on cutscenes with a touch of the Vita's front screen, additionally, pressing on the left or right of the screen during gameplay allows Snake/Raiden to peek around corners.  In Snake Eater, you can interrogate enemies via the rear touch and in Sons of Liberty, you can stand on your tiptoes via the rear touch as well. All pretty inane additions which can be ignored if you so wish. One Vita exclusive that can't be ignored is switching/equipping items and weapons.
In the original console games and the HD Collection available on Xbox 360 and PlayStation 3, the player could cycle through their weapons and items on screen by holding the left and right triggers. In Metal Gear Solid HD Collection for the Vita – lacking triggers – this is done by holding the box in the bottom right hand corner for weapons, or bottom left for items, on the Vita's touch screen. Although it wouldn't have been ideal, mapping a part of the rear touch for this would've been a better use of the Vita's features. Whilst cycling through the inventory, the average thumb is blocking a section of the screen, therefore making it difficult to see if a ration or thermal goggles are selected. It's an annoyance that feels like it could've been avoided. However, one thing that feels intuitive is equipping/unequipping items through a quick tap on the OLED screen.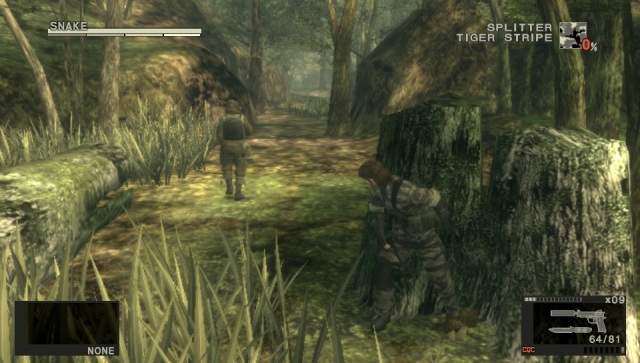 Transfarring is one feature that is great for the Vita and should be used on every game that has a Sony handheld and PS3 offering, when applicable. This is Konami's buzzword for transferring, it allows the user to easily swap saves between the home console and the Vita through the cloud or wi-fi. On top of that, both trophy lists are separate, for those that are seeking to boost up their level on PSN. Also, one can't turn a blind eye when it comes to the exclusion of Peacewalker. The PSP title was part of the HD Collection on consoles, but is notable by its absence here. In a speculative manner, the game can still be downloaded on the PlayStation Store and played on Sony's newer handheld system, so the lack of more Big Boss is probably because it can be bought separately already.
Since the PS Vita's launch last February, the system has been lacking a considerable amount of software. Granted, these games came out in 2001 and 2005 in their first run, but still hold up well today. For those that are wondering what it feels like to be in a cardboard box again, or those that don't know what the word "stealth" truly means, Metal Gear Solid HD Collection is a terrific package for PlayStation Vita owners, either new or old to the series.