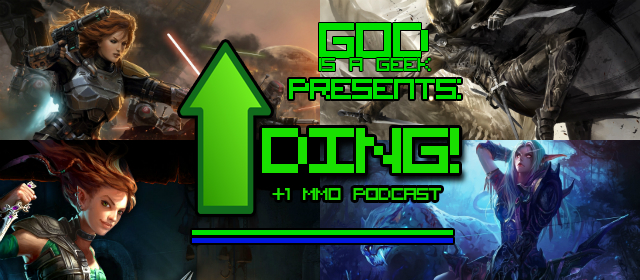 It's Friday morning and that means that there's a new episode of your favourite MMO podcast available. Are you ready to Ding?
On the 35th episode of Ding!, we join Calvin, Martin and friend of the family – and series regular – Trey Douglas as they talk about Martin's accidental joining of the enemy in War of the Roses, the fact that Calvin seems to be still enjoying World of Warcraft as a Pandaren Monk (yes, including the new Pet Battle System) and Trey talks some more about is extended experiences in Planetside 2, including a bit of talk about the brand new continent that's opened up for beta players. After all that it's the return of the rage as Trey talks about Dust 514.
If you want to get in on the discussion, or just leave us some questions to talk about on next week's show, then comment in the box below, and don't forget to rate and review the podcast in iTunes!
See you next week!
You can subscribe to Ding! on iTunes and Feedburner, Stitcher or follow the show on Twitter, @DingPodcast. If you just want a simple download of the show to put onto whichever MP3 device you own, right click here and choose 'Save as'.
Ding! is a part of the GodisaGeek Podcast Network. Every Friday there will be a new episode.