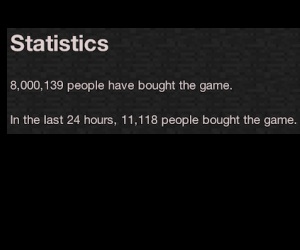 I think it's safe to say that we can now call Minecraft one of the biggest PC games of all time, because over at the Official Mojang Blog, it has been announced that the game has sold over 8 million copies on PC.
As they put it themselves, sure, it's not as many as The Sims of Half-Life 2, but it's a lot of copies, nonetheless.
Are you a Minecraft player? If so, are you on PC, Xbox 360 or even a tablet device? Let us know why you love the game so much in the comment section below. You can also read our Xbox 360 edition review, here.
You can buy Minecraft for PC here.