You know what day it is? It's Monday again and that can mean only one thing here at GodisaGeek: It's time for another edition of Mobile Monday, the article where we take a look at four mobile games and let you know if they're worth your time and money.
This week we're taking a look at Toss It from Boolba Labs, Café International from Application Systems Heidelberg Software, 2022: Space Invasion from Maysalward and Tiny Owls from games 2 be.
Read on to find the full reviews of each game, but don't forget to come back next week for more Mobile Monday reviews. While you're here, if you have played any of the games listed, or even just want to come back once you've had a go to let us know how you got on, we'd love to hear from you in the comment box at the bottom of the page.
Titles are available on iPhone and iPad unless specifically stated otherwise. If you like what you read, click the small black "App Store" button to load iTunes up and purchase the title!

TOSS IT:
When iOS games first came out, you couldn't get much in terms of games. Sure, you'd get your odd port of a board game or something simple, but there was never anything with real depth. Almost half a decade later and the App Store is inundated with games that require us to dedicate more time to them; almost the exact opposite of what most of us actually want to do. Toss It is a game developed by Boolba Labs, that harkens back to those early iOS titles. It has very little in terms of substance but it's certainly a game people can pick up for thirty seconds or so if that's all they can give. Have we matured as iOS gamers though, are those thirty seconds enough any more?
The gameplay in Toss It asks the player to throw a screwed up ball of paper into a waste paper bin. It's as simple as that, and it's something most of us would be doing at work anyway, only this time you don't have to pick up after yourself every time you inevitably miss. To make things a little bit more difficult there's some kind of wind element in the game, this can take the form of a fan during the indoor environments, or just plain wind when you're playing outdoors. This wind element is there to make the game a little harder as well as to give it a random element, to make it a bit more interesting, and it works, adding just enough of a random factor to make things interesting.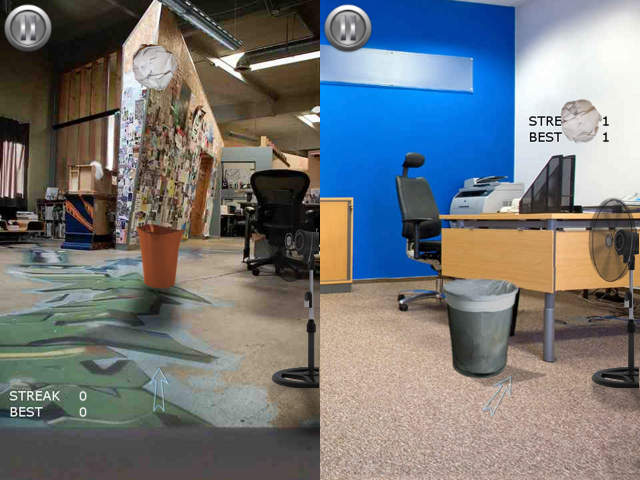 In a further attempt to keep things interesting in Toss It, there's also a challenges section. In this area of the game players are able to set challenges for their friends or complete strangers by spending a coin, completing their turn and sending it off to be placed in the pool of potential competitions for people to use. This adds a little bit more replay value to the title, especially if you've got friends that play the game, but it's not going to keep the attention more than something new would. Sure, you're creating challenges for other people but you're still basically playing the same game.
The controls in Toss It are as easy as you could hope them to be. Simply hold your finger onto the screen and swipe upwards, the speed at which you swipe will determine how fast or powerful the throw is and the direction you swipe will determine the angle of the throw. It's all very intuitive and it won't be long at all before you're throwing bits of paper like a pro; if there was such a thing as Pro Paper Tossing.
This style of game has been done before and if you've played one of the other extremely similar games out there on the App Store then you're not going to be getting much different here. The addition of the challenges will keep people playing a little longer than usual, but not much longer. The biggest selling point of Toss It is the fact that you can play the game for as little or as long as you want. Whether you've got a minute or an hour to kill. You're not going to play the game for too long, the visuals aren't too interesting to look at, or diverse from each other, and things have a tendency to get pretty old pretty quickly.


CAFÉ INTERNATIONAL:
It's very rare these days that you actually come across a game on the iOS App Store that's a bit different. Sure, we all enjoy sitting down to another Angry Birds clone as much as the next person (that's a lie, we totally don't) but there's nothing quite like starting a game up for the first time and realising that you have absolutely no idea what's going on; you're going to have to learn a new game. How exciting! Café International, developed by Application Systems Heidelberg Software, is just such a game, an iOS game which is reminiscent of other card based games, but at the same time, is absolutely different.
The gameplay in Café International puts you in charge of a Café which is catering to people all over the world. However, because people from different countries don't always get along famously, you're going to have to arrange them around the tables in a very specific way in order to keep them happy. Firstly, for every gentleman at a table there should be a lady, the tables must always balance out with their ratio of male to female customers. The customers will also need to be on the table of their country, indicated by the flag on the table and on the cards. Once a table has been filled of all possible people, it disappears and the player can tap on the empty space in order to generate a new table and do the whole thing over again.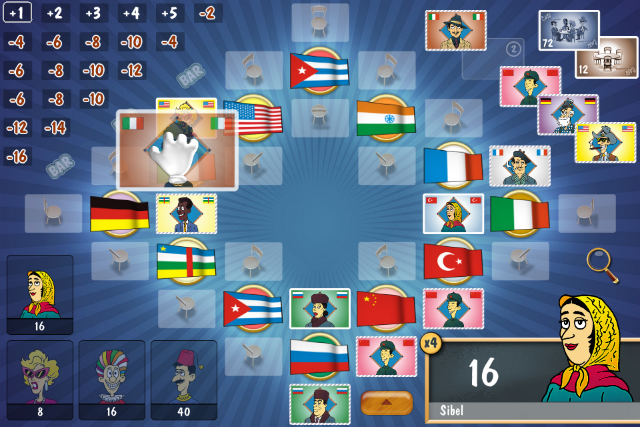 It can be a little difficult to wrap your head around at first but, at the end of the day, Café International is unlike most games you've seen before, so it's going to take a little bit of getting used to. Once you do have the mechanics down to a fine art, it's actually a pretty good game. Spend the time to learn it properly and you'll be rewarded with a game that you'll find hard to put down, and when you do, all you'll want to do is pick it back up again. On the downside, the graphical elements could do with a little bit of a tidy up, while the art style is good and fits in nicely with the theme of the game, the actual execution of the assets leaves a lot to be desired. It's not bad, it's just obvious that it could be better.
The controls for Café International are easy to get used to, all you're going to be doing is dragging cards from one area of the game screen to another. If you've used an iOS device in any capacity before, then you're going to be well versed in the skill set needed to play the game. That being said, on the smaller iOS devices such as the iPod Touch and the iPhone, dragging the appropriate card can be a little bit tricky as they're not particularly large. You will often find yourself picking up the wrong card. This could lead to frustration for some people and while it's not the fault of the developers, it's something to be aware of.
Café International isn't going to be everyone's cup of tea, but those people that are looking for something genuinely new and challenging should love what it offers. The art style, while not executed to the highest standard, has a certain charm about it, the controls are intuitive, if a little fiddly at times, and the gameplay is fun once you've wrapped your head around it. It's a game that deserves to be downloaded purely for trying to be different, stick with it though, learn all the moves and gameplay elements, and you might find yourself with a game that finds a permanent place on your iOS Device.


2022: SPACE INVASION
Top-down shooters on the iOS App Store are a relatively rare breed. There was a time in gaming when you couldn't move without seeing a cabinet for one of the classic games of the genre (my personal favourite being 1942) but that never seemed to translate over to the new mobile gaming craze. Sure, there are a few on there, some of them are even quite good, but there's not nearly the number that people may expect. The guys over at Maysalward are attempting to add one more to that mix with their free shooter 2022: Space Invasion. Being free and having gameplay that we don't often see on the App Store doesn't make it an instant success, so we're going to have to see how it plays.
Just like a typical top-down shooter, the player is situated at the bottom of the screen with the waves of enemies coming at them from the top. This standardised way of playing the game means that people who have played this type of game before will be able to jump straight in, but even for those people that have never played a title from this genre before, the gameplay isn't too hard to pick up and most people will be a dab hand at it within a matter of minutes. The most difficult aspect of the gameplay is that you don't often see the enemies until it's almost too late, the game would have benefited from being a little bit more zoomed out of the action or at least allowing players to play the game with their iDevices in portrait mode.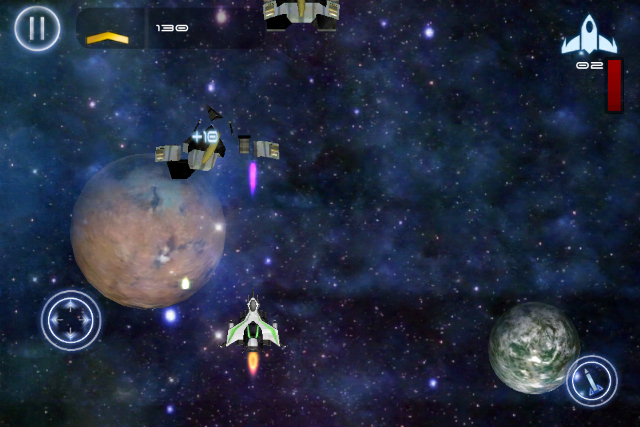 The story and progression of 2022: Space Invasion is rather simple too, but you're not here for the in-depth narrative, you're here to shoot some alien scum! The story revolves around the player taking out ships from an alien invasion that was seen to be on its way in 1998. It's now 2022 and the planet's best pilots have been training just to take on the aliens. The time to prove that all that training hasn't been for nothing is now. You'll pick your ship, with others becoming available through the collection of money or via in-app purchases, then take to the skies for some satisfying pew-pew action.
The controls are easy enough to get a grasp with, but they are on-screen controls so it's up to personal preference as to how much this bothers you. Having said that, they're not the worst implemented on-screen controls I've ever used, they're rather responsive and the fire button can be constantly held down in order to send a constant stream of bullets in the enemy's direction. It's a simple game to pick up and play but it would probably be a little more comfortable on an iPhone or iPod Touch.
Maysalward have managed to create a top-down shooter which, while a far cry from some of the best examples of the genre, is a passable effort and one that plenty of people are going to enjoy playing. If you enjoy top-down shooters then you'd be mad not to pick this up, especially given that it's free. If you don't have an interest in the genre then you're not missing much by passing this one by.


TINY OWLS:
A lot of game on the iOS App Store require quite a bit of thought in order to get through them. These are all well and good if that's what you want when you're playing them, if you want to be challenged mentally and rewarded when you actually succeed at them, but what if you want to test your skill? Puzzle games aren't really a fit for this, they'll test your mental skill but usually nothing else. That's where a game like Tiny Owls comes in, developed by games 2 be, a game where there's no confusion at all about what you're supposed to be doing but the skill and precision involved in doing it is another matter altogether. You can put your brain away for this one, your fingers are going to need all the blood and oxygen they can get.
Your task in Tiny Owls is to collect all of your children who have been scattered around the level, then move towards the exit in order to move on to the next level. Collecting the children is as easy as flying into them, as soon as you do they'll start to follow you and you don't have to worry about them getting lost again, just keep concentrating on flying and collect any remaining children in the level. You'll be able to see how many are left to collect from the number that's displayed in the too centre of the screen and you're going to have to collect each and every one of them you want the exit door to open. You're leaving no tiny owl behind in this game.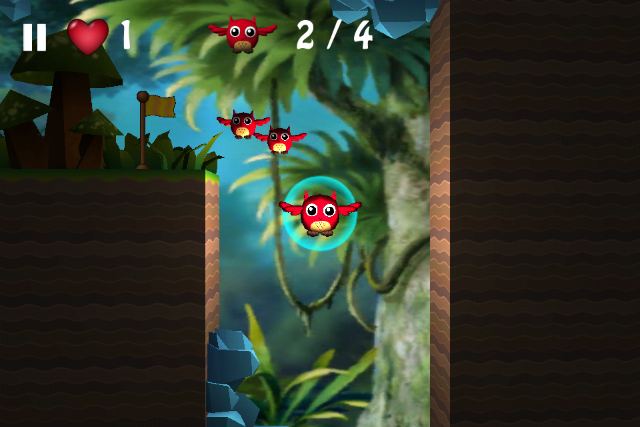 There are a couple of additions to the gameplay that, if they weren't there, would have made the game quite a bit more frustrating to play. Firstly, once you've collected a tiny owl, if you then hit one of the sides of the level (which you're not supposed to do) and lose a life, you'll be returned back to the last save point, as you'd expect, but you don't have to recollect any of the tiny owls you've already collected. This sounds like a no-brainer but it's a feature that the developer didn't have to include, but having it makes the game a whole lot more fun to play. The other similar feature is the save point. At any point in the level you can land on the floor and a small yellow flag marker will be placed there. This is the place that you will return to if you lose a life and it can be a godsend; especially if you've just navigated a particularly nasty area of the level and don't fancy doing it again after a moment of stupidity. Save often!
The controls in Tiny Owls are also easy to get your head around and actually quite intuitive. You're going to be tapping and holding the screen of your iOS device in order to make the owl fly and then use the accelerometer in the device to turn. Tilt the device left and the owl will fly left, do the opposite and the owl will respond as expected. The controls are quite responsive for tilt controls too, all of which helps the game to be fun to play while also removing the barrier to entry for anyone who wouldn't normally play games.
Tiny Owls is a game that's easy to get into and fun to play. There's a lot of level which is a good thing, though there's a good chance that players will feel the repetition of the gameplay setting in quite soon. The controls are easy to get into as well as being responsive to even the slightest tilt of your iDevice. If you've been wanting a puzzle style game that tests your reflexes instead of your mental prowess then Tiny Owls is right up your street. It's not the greatest game in the world but it's much better than first impressions would have you believe.