FuturLab Signs a Deal with Sony, and the Devil Really is in the Details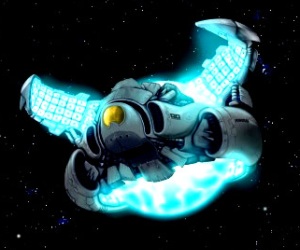 We don't necessarily fancy ourselves as code-breakers here at GodisaGeek.com, but we're rather proud of ourselves for the fruit our half-hour of labour bore earlier this evening when we read through a seemingly-innocuous press release from indie developer FuturLab.
First, the broad strokes: In a landmark deal, FuturLab – developers of highly-acclaimed PlayStation Minis title Velocity – have signed a development contract with Sony to produce games for the Vita. What makes it special is that Sony have agreed to let FuturLab retain full control of their Velocity IP. That's not only an impressive show of trust and confidence from Sony, but a sign of great things to come for Vita owners – if you haven't played Velocity before, spend 30 minutes with it and you'll understand.
FuturLab's Managing Director, James Marsden, said of the deal:
"We're incredibly excited to be working closely with PlayStation over the next year, bringing our particular brand of twitchy fun to the PS Vita. Sony has provided a great package that means we retain full control of our IP, which is a perfect deal for us."
So, what's all this about code-breaking? Well, it wasn't until we reached the end of the press release that we realised several of the letters in the last line were emboldened. Feeling 20% like James Bond and 80% like we'd spotted a couple of typos, we then saw the lines "The devil is in the details" and "For more information, look closer…"
Thirty seconds later, we had scribbled on a pad the line FANPOWEREDFLIGHT.NET which, when Google'd, led to this website, showing nothing but a countdown in front of a smattering of seemingly random YouTube usernames and the cryptic message YOU ASKED FOR IT. Entering your details will allow you to be notified when the countdown ends. Could it be a sequel to Velocity? Better yet, could it point to a full-blown Vita version of Velocity with all the associated trimmings? We can only hope.
Either way, it's a massive, massive deal for FuturLab and one that will no doubt produce a line of quality handheld titles, particularly if they retain their creative control. We'll keep you posted as more details emerge.