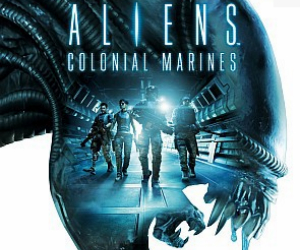 As anticipation continues to build for Aliens: Colonial Marines, Gearbox Software's canonical sequel (and shameless homage) to James Cameron's 1986 bug-hunting masterpiece, we can expect more and more teaser trailers to burst squealing from Randy Pitchford's chest over the next few weeks. Ok, that's not a pleasant image, but you get the metaphor.
This latest 1-minute teaser shows the Alien Hive, a dark and forboding area stashed away within the labyrinthine corridors of Hadley's Hope's engineering deck. We're treated to a concept image and then a few seconds of in-game footage for comparison. This trailer doesn't show tough hombres shooting the hell out of xenomorphs like they usually do, but it does offer a tiny insight into the concept art behind the level design.
Once again, what seems most evident is Gearbox's respect for the source material. As Rebellion's sub-par Aliens vs. Predator game showed, authentic M41-A pulse rifle sound effects and captured xeno squeals do not an effective Aliens game make, but Gearbox have gone further than that. Everything is designed to immerse you in the world – which is no mean feat when dealing with a universe as loved as this one. Check out the teaser below.
Aliens: Colonial Marines is scheduled for release worldwide on Xbox 360, PlayStation 3, Windows PC and Nintendo Wii U on February 12.