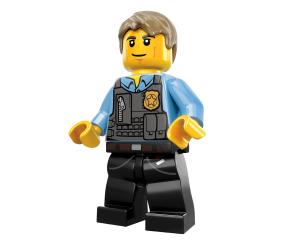 LEGO City Undercover looks like a lot of fun, much like LEGO itself, until you tread on it, anyway.
Anyways, today we have heard from Nintendo that there will be an awesome limited edition version of the game available, containing the retail disc of TT Games' Wii U exclusive, as well as a neat little lego figurine of protagonist Chase McCain, whom you can see just to the right there.
In LEGO City Undercover, Chase McCain is trying to arrest the dangerous Rex Fury who is responsible for the recent  crime wave in LEGO City. To do this he goes undercover, exploring the sprawling open-world LEGO City and donning a range of different costumes for special abilities; for example, dressed up as a miner he can utilise dynamite, while becoming a robber lets him pry open doors. The unique properties of the Wii U GamePad controller come into play throughout the hunt for Rex Fury. The GamePad functions as a Communicator to talk to others, is used to scan the surroundings for clues or criminals, or to view the handy map and GPS route when driving around the city.
LEGO City Undercover launches across Europe on 28th March exclusively for Wii U.