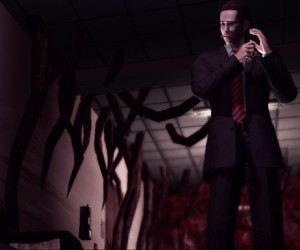 The weird and wonderful mind of Hidetaka "SWERY" Suehiro recently posted a New Year's style blog, not to dissimilar to Phil Fish's from the other day. In the blog post, which was picked up by Siliconera, SWERY looked back on the year that was 2012, whilst also providing a cryptic, yet welcome statement;
"And to all my fans, who keep giving me their never-ending support… I think I'll have some surprising and amazing news for you next year."
Currently, Suehiro is working on Deadly Premonition: The Director's Cut which will see an exclusive release on the PlayStation 3 that includes HD visuals, reworked controls and some additional DLC. The game is coming to North America in March, with a Europeans waiting for a more concrete date than, Q1 of 2013.
To assume that Suehiro is referring to something other than The Director's Cut isn't completely mad, but what he's referring to remains to be seen, of course.
Don't let us be your little secret: SHARE!