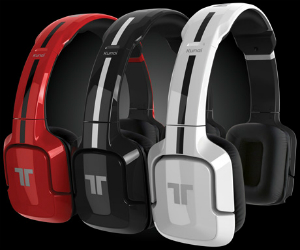 Product: Mad Catz Tritton Kunai Stereo Headset
Price: £39.99
You may recall how impressed I was recently when I took a look at the superb 7.1 surround sound Tritton gaming headset – a magnificent peripheral which provided an all-singing, all-dancing solution to all of my home console and PC headset needs. It didn't cater for the newest addition under my telly, however, Nintendo's fledgling Wii U console, with its flashy gamepad tablet and motion sensory wizardry. Thankfully, Mad Catz have seen fit to give early adopters of this new hardware exactly what they need with the Kunai headset; a neat set of cans that while not really anything to do with the ninja weapon it is named after, delivers on a number of levels.
My headset arrived in a fairly basic box that slid easily from its outer sleeve, revealing the headset and the detachable microphone, as well as an easy to read, boldly laid out set of instructions, something which Tritton seem to be excellent at providing. The headphones themselves are a rather alluring shade of red, with black detail and padding in the earphones.
The microphone is excellently implemented. It can be bent in all manner of ways, twisted, rotated and locked into place, or simply removed if you are not employing voice chat. The headphones have a 3.5mm jack on the end, and in-line controls which can be used to control the volume or to turn the microphone on and off. It is designed with the Wii U Gamepad in mind, and is plenty long enough to sit comfortably with the jack plugged into the device. The 'phones are exceptionally comfortable and there is plenty of soft padding around the ears, and the thing is light as a feather. I was able to lay on my side on the sofa whilst wearing the set, and suffered no discomfort such was the sumptuous padding.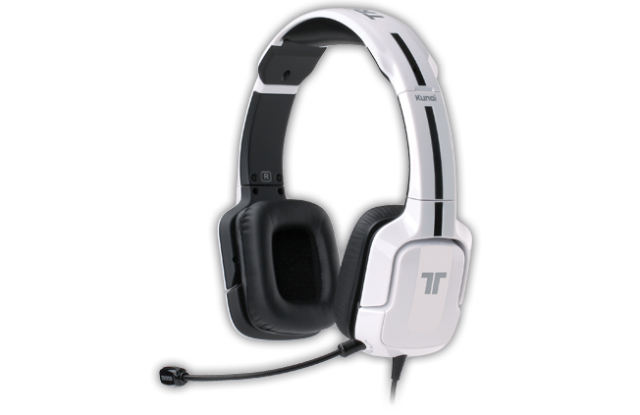 In terms of features, that is pretty much it. You can use the headset as a straight up set of headphones, or to engage in voice chat. Both aspects work very well, the sound quality is absolutely terrific for a device in this price range, and it is a real boon to be able to amplify the somewhat tinny sound on the Gamepad and play in peace without disturbing those around you. I was able to test out the chat capabilities and can confirm that the quality was similarly excellent, I was able to hear clearly and vice versa. New Super Mario Bros U sounded glorious in stereo with a bit more volume than I was used to, likewise for the thumping Tekken Tag Tournament 2.
The best thing about this keenly-priced beauty, is the fact that essentially it is just a really nice set of headphones with the universal 3.5 jack, that happens to be a natty, Nintendo-licensed product that allows you to chat on your brand new Wii U. With this in mind I tested it out with all manner of devices – Vita, 3DS, laptop – and it came up trumps on every occasion. Even when I was throwing the heavy rock of Deftones Koi No Yokan or bass heavy Hit-Boy produced Kendrick Lamar joints at it through my smartphone, there was no distortion or compromise in sound quality.
VERDICT: Colour me impressed. Clocking in at just over a score with most retailers, this is an excellent – if not high-end – value for money, pair of headphones that provides a sound way to enjoy many home entertainment devices without the need for receivers, optical leads and what have you, and is handy for when you just want to escape into la la land and cut off the outside world. They also look cool enough that I was confident enough to wear them on public transport without fear of ridicule. That, ladies and gentlemen, should be endorsement enough.