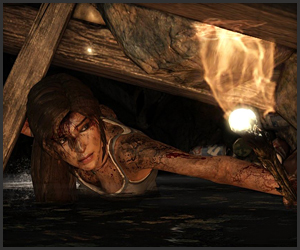 The PC requirements for Crystal Dynamics' upcoming Tomb Raider reboot have been announced alongside a bevy of enhancements for high end machines.
Handled by PC port specialists Nixxes, who have handled every Tomb Raider PC translation since Tomb Raider: Legend, the game is tooled to work with Steam and offers controller support alongside mouse and keyboard controls.
What's more the PC version features very high resolution textures with up to 16x the amount of data. Detail Tessellation to enhance the detail on many surfaces in the game. Higher quality shadows. High quality bokeh depth of field with near-blur. Tessellation algorithms used to smooth out geometry. And improved cloth, SSAO, quality wetness effects, and post-filter effects.
Yes, bokeh, that's what they said. No, I didn't know it was a photography term either until I looked it up. I thought it sounded like a long extinct Chinese marsupial that met its end due to its uncanny resemblance to bamboo that lead to one too many Panda-eat-Bokeh incidents, but then reading anything in the tones of David Attenborough will have that effect. 'The Bokeh'. Let's just say 'it'll look better', yeah? Cool.
So will your PC be able to render Lara in all her rebooted, dirt encrusted beauty? Take a look at the specs below to find out.
Minimum system requirements for PC
Windows XP Service Pack 3, Windows Vista,7,8 (32bit/64bit)
DirectX 9 graphics card with 512Mb Video RAM / AMD Radeon HD 2600 XT / nVidia 8600
Dual core CPU: AMD Athlon64 X2 2.1 Ghz (4050+) / Intel Core2 Duo 1.86 Ghz (E6300)
1GB Memory (2GB on Vista)
Recommended system requirements for PC
Windows Vista, Windows 7 or Windows 8
DirectX 11 graphics card with 1GB Video RAM: AMD Radeon HD 4870/nVidia GTX 480
Quad core CPU: AMD Phenom II X2 565/Intel Core i5-750
4GB Memory
 Tomb Raider will be released March 5 for Windows PC, Xbox 360 and PlayStation 3