Metal Gear Solid V: The Phantom Pain Announced at GDC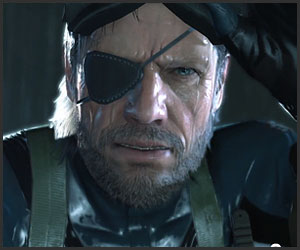 It could be seen from a mile away – and it was by pretty much everyone. However, that doesn't lessen this reveal a single bit.
At GDC, Hideo Kojima has revealed that The Phantom Pain and Metal Gear Solid: Ground Zeroes are one and the same. The Kojima Productions head showed off a brand new trailer at the panel, this time for Metal Gear Solid V: The Phantom Pain. Snippets are taken from trailers of the previously revealed games, along with some brand new footage. Courtesy of RajmanGamingHD, you can see the trailer below.
Along with that, there's some gameplay footage of KojiPro's next game in the storied franchise. Running on a PC, the crowd at the panel were treated to a section of the game that viewers would be familiar with thanks to the The Phantom Pain trailer. Snake (probably Big Boss, going on the timeline) wakes up after 9 years in a coma and the bandaged chap helps Snake to get his bearings and escape the hospital the two are in. It hasn't been confirmed yet, but there's no question that the man of mystery is voiced by Kiefer Sutherland. The vocal tones of Jack Bauer are unmistakable. Sadly, those rumours about David Hayter being dropped could be true as the small amount we hear from Snake in the trailer doesn't have the gravel we're used to. That's also popped up online and you can watch that below, thanks to GamersHQMedia.
Before all of the exciting stuff, you can look at some images of what FOX Engine can actually do.
Also, this is current-gen. Announced for the Xbox 360 and PlayStation 3, Metal Gear Solid V looks incredible. Exciting times ahead for Metal Gear Solid fans, no doubt.
UPDATE: Hayter has recently tweeted:
"Well look, At least I had a good run."
When answering a question from a fan about whether or not he'd been contacted to work on MGSV, Hayter simply replied with "Nope".
Unless this is some sort of extravagant Kojima-esque move, it seems like Solid Snake/Big Boss will have a different voice actor in Metal Gear Solid V: The Phantom Pain.