You know what day it is? It's Monday again and that can mean only one thing here at GodisaGeek: It's time for another edition of Mobile Monday, the article where we take a look at four mobile games and let you know if they're worth your time and money.
This week we're taking a look at Knights & Dragons from GREE, Underline from Albino Pixel, Jane's Zoo from Realore Studios and Vampire from LivoBooks.
Read on to find the full reviews of each game, but don't forget to come back next week for more Mobile Monday reviews. While you're here, if you have played any of the games listed, or even just want to come back once you've had a go to let us know how you got on, we'd love to hear from you in the comment box at the bottom of the page.
Titles are available on iPhone and iPad unless specifically stated otherwise. If you like what you read, click the small black "App Store" button to load iTunes up and purchase the title!

KNIGHTS & DRAGONS:
As far as iOS games go, it's difficult to go wrong with something that has Knights and Dragons in the title. You'd expect to be getting a game with some form of questing in it and, thanks to the people at GREE, that's exactly what this is – complete with a good-sized helping of castle building just for good measure. Knights & Dragons seems to be a game with everything needed to be a popular title, but is it actually something worth playing or does it feel like nothing more than a dressed-up cash-grab? Unfortunately, it's a little bit of both.
The main aspect of the gameplay in Knights & Dragons revolves around entering the different locations around your castle and either completing one of five difficulty levels, or completing quests within those areas – both of which will reward the player with various kinds of rewards. Mostly, the rewards that you'll receive will take the form of experience points or materials that are used to craft the different armour types in the game, but sometimes you'll be rewarded with something even better. The combat is, for the most part, automatic, with both sides taking turns to smack each other with whatever weapon you have handy. When the special ability meter in the bottom right fills up, however, you can manually trigger this and attempt to do some serious damage. If you kill the enemy with one of these special moves there's a greater chance for the defeated enemy to drop something worth picking up, so it's better to be tactical if possible.
As well as the ability to quest in Knights & Dragons, you can also build up the castle you're running into something rather formidable that the Dark Prince will have trouble penetrating. You can do this by purchasing land inside the castle, and then purchasing the different buildings to go on that land. These buildings all serve their purposes in some way, whether it's crafting new items or enchanting your armour, so it's a good idea to build them when you've got the extra coin. Getting money and items to build things and perform tasks is one of the difficult aspects of Knights & Dragons, not because they're hard to come by,  but because it's difficult to attain them in the required quantities without dropping down your hard-earned, real-world money on them. The only major downside to Knights & Dragons is that if you want to get anywhere in the game, it's not long before you're almost required to spend money on it.
Knights & Dragons is a well-made and well-presented game with great visuals and appealing gameplay, however its reliance on in-app purchases limit the player to only playing for a short period of time unless they intend to spend money. The social aspects of the game are appealing if you have friends playing the game too; otherwise they're mostly pointless. There's no doubt that it's entertaining to play, but I couldn't stop myself from thinking that I'd enjoy it a little more if I could have played for a little longer without hitting the pay wall.


UNDERLINE:
There are a good number of Boggle-style games on the iOS store, games that give the player a selection of letters and task them with finding words out of the jumble by connecting adjoining letters together. One of the latest of these is Underline, developed by Albino Pixel, but things are slightly different here as you're given weapons and special abilities with which to increase your score – and, as usual with these games, everything you're doing is to get a slightly higher score than your friends and rivals. That's all anything is ever about. However, does that small difference mean it's worthier of your precious time? Is it even an enjoyable game?
If you've played any of these Boggle-esque games before, some of which we've even covered here on Mobile Monday, then you'll feel right at home with Underline's 'Classic Mode'. The whole gameplay is a mix of Tetris and Boggle, the latter in the sense that you're joining letters to make words, and the former because the letters will constantly be falling from the sky until they fill the entire grid and it's game over. At that point your total will be tallied and you'll be given a score based on how well you did. As you would expect, in order to get the highest scores you're going to have to create longer words which, given the added element of letters falling down and causing you to rush, is no easy task.
Creating massive chains of letters is made slightly simpler by the fact that if you manage to create a word of four letters or more, you'll be given a bronze, silver or gold letter. Including these letters in any word you happen to create will cause the letters around them to explode and give you their points, as well as lowering the height of the letters on the whole and giving you longer in the game to rack up those scores. You'll also be given a selection of weapons and abilities at the start of the game to help with the collection of points. These abilities range from clearing the bottom row of letters (giving you the points in the process) to increasing your score and multiplayer. You don't have to use these abilities but if you want to be at the top of that leaderboard, then you need to.
The controls in Underline are as simple as you would expect, with everything performed with the touch of a finger. The only real difficulty lies in the fact that once you place your finger on the screen, it can be tricky to see what letters you're selecting. It doesn't take long to get used to this though, and you'll be entering letters like a pro in no time. Thanks to the easy rules of the game, and the simplistic user input method, almost anyone is able to play the game without much of a problem. It may take some people slightly longer to get used to the nuances but, for the most part, Underline is a game for everyone.
If you've already got a game of this style in your iOS gaming library, then Underline doesn't do enough to cause you to abandon that in favour of it. The use of abilities and the element of speed are nice factors but, ultimately, it's a bit too similar. However, if this is your first foray into this style of game then you could do much worse. Underline is ultimately fun to play, as are all games of its ilk, and there's a good chance you'll be playing for a fair amount of time to come.


JANE'S ZOO:
Casual games fill up quite a substantial amount of space on the iOS App Store, and for good reason: people love them. One of the most prolific publishers when it comes to casual games that almost anyone can pick up and play is G5 Entertainment. Normally they concentrate on adventure games – of which we've reviewed quite a few here on Mobile Monday – but today we're taking a look at Jane's Zoo, a management sim developed by Realore Studios. Is it as good as some of those adventure games, or should G5 stick to what they know?
Jane's Zoo, at its base level, is a simple management sim with a level of progression. At the start of the game you're given a basic zoo, with workers (including Jane herself) and just a couple of animals to look after – a monkey and an elephant. These animals will, over the course of the game's day cycle, want for different things, such as feeding, cleaning-out, etc, and it's your job to do what's required to make sure they're happy at all times. Happy animals make a happy zoo and that's what you're striving to achieve. The happier you've kept the animals by end of the day, the more points you'll get. Whether to beat your friends or just improve on your own score, more points is the name of the game (not literally).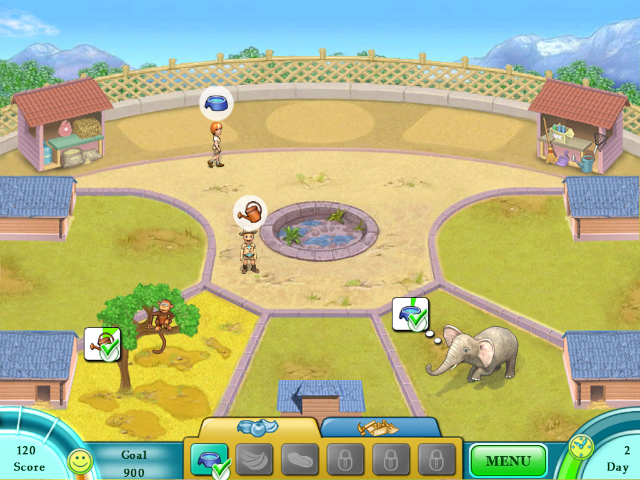 As the game progresses and you move on to different, more difficult zoos, you'll have more and more animals to look after in a single day. Often, only one of the workers can perform certain tasks and if two animals want the same thing, or tasks that are different but performed by the same worker, then you're going to have to decide which animal gets your attention first, often making one animal unhappy for the sake of another. Such is the life of a zookeeper. Some of the things you have to do during the course of the day will require the completion of small mini-games. These are very simplistic but rather fun to do, until you've done them a thousand times. They're a nice addition to something that would otherwise seem a little bland in the world of management sims.
Controls in Jane's Zoo are also easy to get to grips with, with almost everything requiring just a single tap to get things moving in the right direction. Things are made even easier on the larger screen of the iPad but people shouldn't find much of a problem with the smaller-screened iOS devices either. Jane's Zoo is absolutely a casual game and is easily played by people of all ages and gaming backgrounds. Nobody should have a problem playing the game and that's nothing but a good thing.
Jane's Zoo is a game that anyone can download and play without any issues. The gameplay is fun and addictive and the art style is passable. You'll find yourself muttering "just one more level" more than once during your time with the game – I know I did – and most of the time you'll succumb to that urge, too. G5 Entertainment are known for their adventure games but Jane's Zoo is a great example of a casual game in a different genre, and something that the company should try to publish more of.


VAMPIRE:
A lot of games cross my desk here at Mobile Monday, some of them good, some of them not so good, but something that doesn't really come my way all too often is something that can't really be labelled a game. Vampire is an interactive story, based on an award-winning film from Buba Films, that asks the player to listen/read the story while also allowing them to interact with some of the environments that they'll come across. The application, developed by LivoBooks, is a nice idea, especially given most developers' leanings towards games instead of other forms of media, but does it actually work? Is it fun?
The application tells the story of Vladimir, a vampire who doesn't have much to do around his massive house so he's giving you a guided tour as a way to pass the time, as well as introduce you to his world. Almost all of the pages in Vampire will have some form of interactivity, whether that's attempting to pet Vladimir's Venus fly trap, restarting his heart-in-a-jar or just playing with his "screamophone" for hours on end. Whatever you're doing you can almost guarantee that kids (the intended audience) are going to love it, most likely coming back again and again – which they'll have to do anyway as the application and story is painfully short on its own (just look at the video, that's pretty much all of it).
One of the more impressive features, given that it's an application aimed squarely at children, is the fact that parents can record personalised audio for each of the slides. All that's required is that you go into the relevant area of the application, record your narration, then make sure that 'Personalised Narration' is set to 'On' before the story is started and your child will have narration suited to themselves personally. The fact that the words light up as they're being read aloud – in the default narration at least – is a nice touch that helps children learn to read certain words if there having difficulties – a nice touch that didn't need to be included but was anyway shows that the developers have put some thought into the proceedings.
As Vampire is a storytelling application aimed at children, there're really no controls to be mentioned. The interactive elements of the narrative are all activated with a simple tap of the screen and shouldn't prove a problem for people of the intended age range. The simplicity of the controls also adds to the application's accessibility and charm. If you think your child is old enough to experience the story, then they're old enough to use the interactive elements. It's further proof that LivoBooks have put thought and research into the development of Vampire, and that's always great to see.
Vampire is an impressive application and one that will see a lot of use from some people; the ability to add personalised narration a particularly nice addition. However, the short length of the story is a little bit disappointing and leaves replaying it over and over again as the only real reason to keep it installed in your iOS device. It's a good idea that's been well-executed, but having more of it wouldn't have gone amiss.