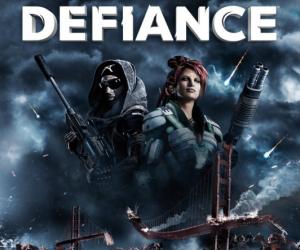 An open-world Third Person Shooter with a tie-in TV show on SyFy? Okay, you have my interest piqued, Trion Worlds.
Although the TV show doesn't start until April 16, the game (for PC, Xbox 360, PlayStation) is available today, and you can even grab the collector's edition (£64.99 on Console, £54.99 on PC) which includes in-game bonuses (sigh) and an exclusive Hellbug figurine (yay). There's also a limited run of the Ultimate Edition (£89.99 console, £79.99 PC) which includes all of the items you'd get in the other versions, but also a season pass and a messenger bag; which sounds pretty cool.
"We're incredibly proud that after five years of development, we are bringing this ambitious project to life." said Nathan Richardsson, VP of Development for Trion and Executive Producer of Defiance. "The game launch is just the beginning of a truly unique entertainment experience and, in a couple weeks' time, you'll be able to tune into Syfy to see the story unfold, the characters develop, and realize transmedia entertainment unlike ever before."
We've been following Defiance for quite some time now, and having hands on with the beta, we're interested to see how the final version turned out. Stay tuned in the near future for our review, obviously.
Check out the launch trailer, below.
Defiance is released today for Windows PC, Xbox 360 and PlayStation 3.