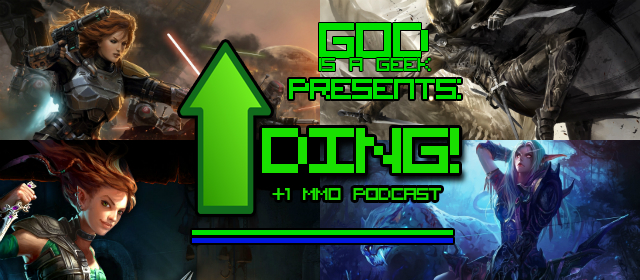 Ding! is usually streamed and recorded live on Saturdays at 12pm BST, then released in archived format on Mondays. This week we'll be travelling to Los Angeles, California for the industry geekfest that is E3, so we won't be available to record next week's episode. For that reason, we're giving you an extra episode this week, instead!
On the 65th episode of Ding!, Calvin is joined by Cryptic Studios' Executive Producer, Daniel Stahl. Calvin and Daniel discuss everything Star Trek Online, as Daniel answers a number of questions the community have been dying to know. A special thanks goes out to Redditors 420_YoloSwag_420, illusioncaster, sir_sri, ninjivitis, mvs5191, randomguy1337 for providing additional questions. Martin and Trey will return as usual, the week following E3.
FYI: Ding! is now Ding! Live!, so while you'll still be able to download and listen to the podcast from all of the usual places (Stitcher, iTunes, directly from GodisaGeek.com, etc) you'll now also be able to tune in live at VideoGameRadio.org and listen to the Ding! gang absolutely live, where you'll be able to interact with them, ask them questions (via @DingPodcast on Twitter) in real time. So don't forget to tune in every Saturday at noon, over at VideoGameRadio.org!
If you want to get in on the discussion, or just leave us some questions to talk about on next week's show, then comment in the box below, and don't forget to rate and review the podcast in iTunes!
You can subscribe to Ding! on iTunes and Feedburner, Stitcher or follow the show on Twitter, @DingPodcast. If you just want a simple download of the show to put onto whichever MP3 device you own, right click here and choose 'Save as'.
Ding! is a part of the GodisaGeek Podcast Network. Every Monday there will be a new archived episode but you can listen live at 12pm BST on Saturdays at VideoGameRadio.org