As I stand in a small room belting out Avril Lavigne's classic Complicated to my less than impressed one man audience that comprises solely of a PR who seems to think my choice of songs is less than ideal, I realise just how uncomplicated We Sing is. Avril would love it.
After arriving at the We Sing preview event I was thrown into a room with two mics and the We Sing start screen on the TV. Within a matter of seconds I was in, singing Stitches by Shawn Mendes (which for the record is like the one good song from this year) and generally having a good time. I didn't have to search through mountains of menus to find a song I wanted to sing and I didn't have to go through multiple steps to set up the mic. I walked in, found a song I wanted to sing and sang it. Easy.
There is the odd issue in this department, like the fact that THE D PAD DOES NOT WORK ON MENUS OMG WTF IS THAT ALL ABOUT, MAKE THE D PAD WORK ON MENUS FOR THE LOVE OF GOD. There was also one time where I accidentally went to a different mode where it only played the music video and had no idea what I had done, but other than that We Sing is incredibly simple and that is super important.
While there will always be people like me, the UK's leading karaoke games journalist, who play a ton of games and sing a decent amount of karaoke, a lot of the people who end up playing We Sing probably won't do much of the former, so simplicity is key. Some similar games fall down in this department, with tons of modes, difficult to use peripherals or really unfriendly menus, but not We Sing, apart from the obvious D pad issue that literally ruins everything.
My set list progresses and I move onto the likes of Maroon 5's She Will Be Loved, Fall Out Boy's This Ain't a Scene, It's an Arms Race (which is actually really quite hard to sing well) and OneRepublic's Counting Stars. Things are going well, I'm having a whale of a time, although I'm still not convinced my one man audience appreciates my song choices, but he 100% loves my singing that is for sure, but soon it comes crashing down.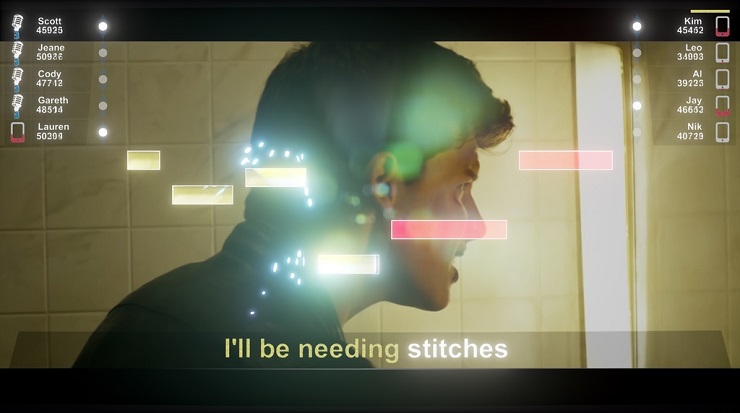 I get too cocky, I browse through the song choices and consider the likes of Usher's Yeah (absolute tune BTW), the Demi Lovato version of Let It Go (which is the lesser of the two main versions but still a tune) and Thrift Shop from Macklemore & Ryan Lewis, a song I know about 4 words of but I wanted to sing anyway. But then, as I travel back through the chronologically ordered set list, I stumble across A-ha's Take On Me, and considering I have absolutely smashed it thus far I go for it.
Now if you have ever seen me do karaoke, or have even seen the infamous videos of me doing karaoke, you know I can go pretty high, but this was a step too far. I know what you're thinking. I bet his voice gave out, I bet he couldn't hit the high notes, I bet he totally fucked it. Well good people of the internet I am pleased to tell you that you are all wrong. I totally and undoubtedly smashed it. Only one time did I mess up the high note and that was because I messed up my breathing beforehand. I did so well that my one man audience even commented that my score was really high. BOOM.
But this came at a cost. After 45 minutes of solid singing, and the strain of going from quite deep to really really high in Take On Me, my voice was on its last legs. As much as I wanted to duet Elton John and KiKi Dee's Don't Go Breaking My Heart with my one man audience, and as much as I wanted to bash out Eternal Flame by The Bangles I realised I couldn't do it.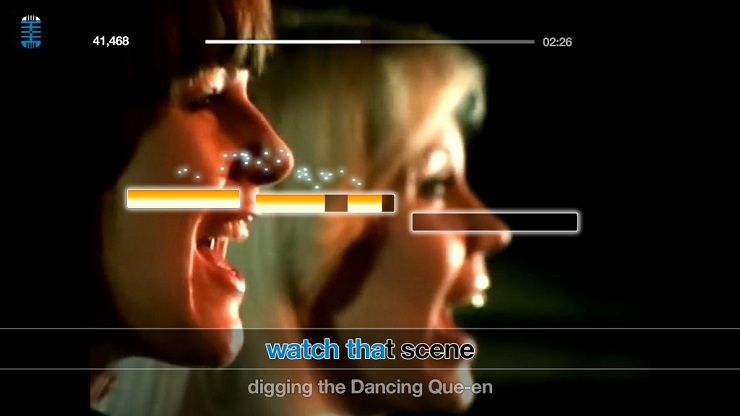 Eventually I settled on the fairly monotonic Coldplay for my final song, with Viva La Vida rounding out my set. It was a lacklustre end to what was undoubtedly the best set of the day (I have no proof of this BTW, I just know that no one in the UK games industry can give me a run for my money when it comes to karaoke). No one really wants to end a set with Coldplay, but sometimes you just have to. Cyndi Lauper's Girls Just Wanna Have Fun will have to wait for another time.
What I have basically done throughout the last five paragraphs is try to convince you that despite only being 30 songs deep, We Sing's song offering is actually really good. There is a fair bit of variety, from modern titles that all the kids will know, through to classics from the likes of A-ha and Elton John, and even a few tunes for those moody teenagers. It could just be my incredibly weird taste in music, but there were only a few songs (mostly the modern ones) that I didn't know or didn't want to sing, the rest were all great and there is more than a few classic tunes that have been added to my current playlist as a result.
It's probably most surprising that I, a massive karaoke fan and the UK's leading karaoke games journalist, loved We Sing, but it really does have everything a good karaoke game should. It has good songs and is easy to use, and at the end of the day that's all that's really required. A quick look at the track list, and your internal opinion on karaoke will probably allow you to decide if you want to pick this up, but you could do a lot worse this Christmas than get all the old timers trying to cover Usher or Wiz Khalifa.