Incoming! New Worms Ultimate Mayhem DLC out now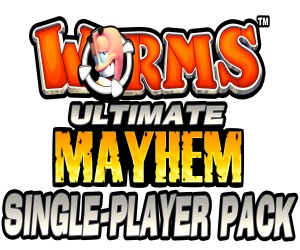 If you enjoy playing Worms Ultimate Mayhem and you're thirsty for some more worm carnage, then the warriors at Team 17 are here to satisfy you justified blood-lust with some new downloadable content that is available to download today!
Entitled "Worms Ultimate Mayhem Single Player Pack", gamers will be able to experience some brand new additions to the already excellent single player challenge modes, with 8 brand spanking new challenges that include some of your favorite weapons and equipment from this classic title such as Sniper, Jet Pack, Shotgun and even Super Sheep.
Not only does the DLC have extra single player challenges, it also includes an extra multiplayer map and 3 new achievements to assist you in topping up that all important gamer score. If you're dying to know exactly what is in the DLC then the following list of features will quench your thirst:
1 new Sniper Challenge
1 new Jet Pack Challenge
1 new Super Sheep Challenge
1 new Shotgun Challenge
1 new Accuracy Challenge
1 new Navigation Challenge
1 new Crate Collect Challenge
1 new Deathmatch Challenge
1 new Multiplayer map – "All Systems Oh No"
3 new Achievements
The Worms Ultimate Mayhem Single Player Pack is now available on Xbox LIVE for a bargain price of 400 Microsoft Points so if you desire to eradicate worms from the face of the planet, get on your Xbox and start downloading while your waiting, take a look at these screenshots that will most definitely get you in the mood for some ultimate mayhem. Be sure to keep an eye out as well as future DLC will be available for this title in the coming months.
[nggallery id=687]
Worms Ultimate Mayhem Single Player Pack is now available on Xbox LIVE for 400 Microsoft Points.