Final Fantasy XIII-2's Noel and Serah Costume Changes Released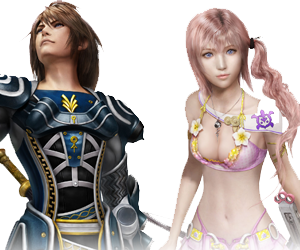 Hey, you! Yeah, you, the guy sitting playing Sims. You like changing the appearance of your characters right? Aren't you glad that most games allow you to chose the facial tones and hair highlights of all the characters you play?
Well fear not, friend. If you enjoyed playing Final Fantasy XIII-2, then you'll be pleased to hear that now you can do exactly the same for both Noel and Serah. Both of them have received a costume change that will allow players to play their favorite characters in new, interesting outfits.
As you can see, Noel takes the more epic approach with 'Spacetime Guardian', while Serah definitely opts for the skimpier route with 'Beachwear'. Both outfits are available now on both the Xbox LIVE Marketplace for 240 Microsoft Points and on the Sony Entertainment Network for £1.99 each.