Bloomsbury Dictionary Apps Now Available on iOS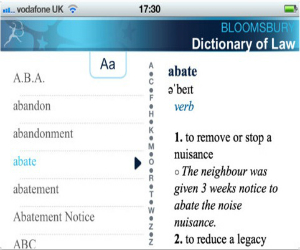 World Trusted Reference Dictionaries from Bloomsbury make their debut on iPhone and iPod Touch today.
Designed for students and young professionals who need easy access on the go. Whether brushing up on key terminology ahead of a crucial meeting , or studying for an examination, the Lexicon Reference Dictionaries provide instant, condensed knowledge.
"We're breaking new ground by debuting a complete range of specialist Reference Dictionaries designed from the ground up specifically for smartphones,"  Steve Tagger of Tagstar Publishing.
28 dictionaries will be available at launch including Law, Politics, Accountancy, Nursing, Banking, Business, Sport Science, Wine, Food, Computing, Food Science, and Environment. Users will have access to features such as unlimited bookmarking, the ability to log 100 entries, as well as email entries to friends, colleagues, or even their own personal inbox as a reminder for later.
With smartphones becoming the hub of our day-to-day lives both socially and professionally, it's great to see apps like this being produced to provide real quality information at the touch of a screen.
The range is available for £ 4.99/€ 5.49/$6.99 per dictionary from the App store. For more information visit lexiconapps.com