Massive Attack Producer Neil Davidge to Compose Halo 4 Score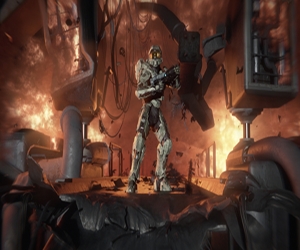 Neil Davidge, co-writer and producer for the last three Massive Attack albums, has been revealed as the man who will be composing the score to 343 Industries' Halo 4, due for release this Christmas on Xbox 360.
Davidge has been present on the music scene for over 20 years, working with artists such as DNA and Massive Attack. Since 2004 he has also contributed to the scores for several Hollywood films, including Unleashed and Clash of the Titans.
Together with 343 Industries, Davidge has enlisted the help of a 16 person male choir, 10 female vocalists, a full 50 piece orchestra and a whole host of other performers to bring the music of Halo 4 to life.
"As a passionate Halo fan, I'm incredibly honored and thrilled to have the opportunity to compose the score for Halo 4," said Davidge. "Music has always been at the heart of what makes Halo so captivating and iconic. With Halo 4, we want to build upon the franchise's amazing legacy and create a score that captures the awe and wonder of the Halo universe, and reinforces the deeper and more emotionally impactful journey Master Chief will embark on."
Sotaro Tojima, audio director for Halo 4, commented that "Neil has a deep love and appreciation for the Halo universe, and the music he's composed perfectly captures the heroic spirit and emotional power of Master Chief's story".
You can check out a behind-the-scenes video of a recording session for the Halo 4 score below, as well as some photos of the session.
Fans who want to find out more about just what goes into creating the music for a title such as Halo 4 can vist the Waypoint blog, where they can download an exclusive sample track as well as learn more about the collaboration between Tojima and Davidge.
[nggallery id=850]
Halo 4 is set to be released on Xbox 360 this Christmas.