Prototype 2 Brings the Heavy Weaponry for Latest Trailer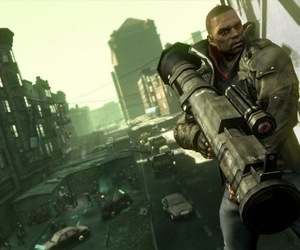 If you weren't excited enough about Prototype 2 already, Activision have recently released not one, but two new trailers for the title, to whet the appetite of open-world destruction fans.
First up, is the Heavy Weaponry Trailer. Here we get a good look at the arsenal of guns and explosives that will be available to Sgt. James Heller in Prototype 2. This consists of some of your more standard items like the trusty Assault Rifle or Machine Gun, 2 types of Rocket Launcher, a Grenade Launcher and then the gigantic Gatling Gun, Rocket Pod and a hand-held Missile Launcher.
Some of these weapons might not seem like the sort of thing you would normally see someone walking around town with – and that's because Heller can decide to just rip the weaponry off the side of a tank or helicopter and start using it on-the-go. Massive missile batteries and repeating machine guns will slow you down and limit your supernatural abilities, but they will still of course cause massive damage across widespread areas.
See the destruction caused by the weapons in-game below:
See the full weapon line-up in the following image:
[nggallery id=854]
Our second trailer of the day shows a couple of the powers that the Blacklight Virus has imbued him with after becoming infected. As he stalks New York Zero in an attempt to avenge his lost wife and daughter, Heller whips out his Wolverine-like Claws and his massive sword-like Blade Arms. read a little more about these crazy mutations that will help you rip apart your foes in Prototype 2:
Claws
The fastest all the offensive powers, Claws enable a savage and animalistic fighting style that combine speed and mobility to eviscerate enemies with multiple blades. They are highly effective against unarmored ground units, and allow Heller to pounce from target to target to overwhelm his prey with the sheer volume and speed of his strikes.
Blade Arm
A power that combines speed and fury into large arcing attacks. By slicing effortlessly through the battlefield, the Blade is highly effective against large groups of ground units. Charge the Blade attack to unleash a furious Tornado that that spins Heller through groups of hapless targets to make one very disgusting, yet protein rich smoothie.
Watch as Heller uses his powers to tear through his enemies below:
Prototype 2 is set for release on the 27th April for Xbox 360 and PlayStation 3.