Spirit Camera: The Cursed Memoir Gets European Release Date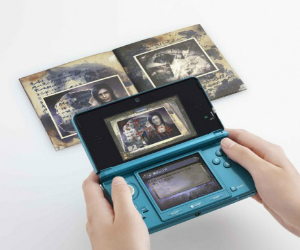 Tecmo Koei Games have finally set a release date for 3DS horror game, Spirit Camera: The Cursed Memoir.
Using the special AR Book, the Purple Diary, you will be taken on an immersive supernatural journey that will utilise every facet of the Nintendo 3DS's camera and Augmented Reality capabilities.
Players can explore the mystery behind the diary and interact with 3D spirits, just by looking through the Nintendo 3DS.
Along with the story mode the game also features 3 other unique ways to play, if you dare. Spirit Check mode allows you to interact with your own face in the Purple Diary, alongside scary ghosts lurking in the environment. Spirit Challenge assigns attributes such as Attack Power, Speed and HP to a picture taken with the 3DS, allowing you to fight in a battle it out with evil spirits. If that's not enough there are loads of riddles and puzzles to complete in Cursed Pages mode.
Spirit Camera: The Cursed Memoir for Nintendo 3DS hits on June 29th. Project Zero 2: Wii Edition is also releasing June 29th.