505 Games Reveal Naughty Bear: Panic in Paradise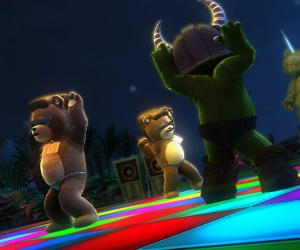 505 Games announced today that they would be bringing a sequel to Naughty Bear out for Microsoft's Xbox Live Arcade and Sony's PSN service.
"With the first Naughty Bear game audiences responded well to the juxtaposition of cuddly innocence, with dark humour and over the top violence," says Victoria Reeve, Senior Global Brand Manager, 505 Games.
Naturally, this response warrants the creation of a second game entitled, Naughty Bear: Trouble in Paradise.
The premise of the Naughty Bear franchise is that the protagonist, Naughty Bear, has been shunned by the bear inhabitants of Paradise Island. Instead of taking an introspective look at his obvious personality flaws, Naughty Bear responds with characteristic aggression.
This time around, players can look forward to a revamped combat system, brand new leveling up system, equipment customisation with thousands of combinations and over 30 mission set across 11 distinct areas of Paradise Island.
Naughty Bear: Panic in Paradise is expected to be released sometime in 2012.