Geek in the Tubes – Episode 11: World of Warcraft Machinima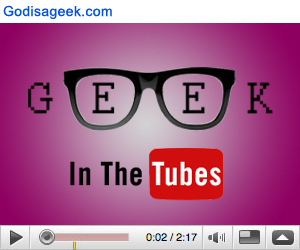 Why hello there! Welcome to Episode 11 of Geek in the Tubes, your monthly look at some of the best video game related videos which are available for your viewing pleasure on the Internet.
This week we delve into the art of machinima, which according to Wikipedia is "the use of real-time 3D computer graphics rendering engines to create a cinematic production". Roughly translated, the videos below are ones which people have made using videogames, and for this episode of Geek in the Tubes I've decided to showcase videos made using one specific game: World of Warcraft.
We begin proceedings with some Johnny Cash. Of course when I say Johnny Cash, what I mean is a music video for the song Solitary Man made entirely in World of Warcraft. Fans of gnomes and Mr Cash should enjoy this video.
Moving on from music videos, our next example of World of Warcraft machinima comes from the world of the motion picture. Below you will find a rendition of the opening scene from Kung-Fu Panda (which features a panda who knows Kung-Fu oddly enough) as it would have appeared had Blizzard done the animation rather than DreamWorks.
Next up we have what can probably be best described as an episode from a sitcom, though not one that you would normally find Channel 4 airing multiple repeats of. In this episode of 'World of Workcraft' a group of WoW players decide to tackle something a little more challenging than the dragons of Azeroth: office life.
Seeing as we started this month's episode with a music video, I thought it best to close the show with another. The band featured in this video are Level 70 Elite Tauren Chieftan (although at the time of writing the current name of the band is Level 90 Elite Tauren Chieftan; this song was recorded under the Level 70 moniker), a band consisting of Blizzard employees. The video below features their World of Warcraft alter-egos, The Tauren Chieftains, comprised of members of The Horde. All that's left to say is enjoy the video, and I'll be back next month with another edition of Geek in the Tubes.
If you have any suggestions for next month's Geek in the Tubes topic, then leave a comment below, send a message to the GodisaGeek Twitter feed, or post on our Facebook page.