Microsoft to Unveil New Gears of War Title at E3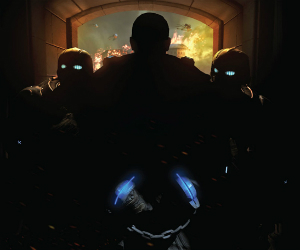 In an odd move Microsoft have decided to announce a new Gears of War title, just days before E3 kicks off.
Exclusive factory Game Informer will feature the game on the cover of its July issue, until then though the cover art is being kept in the shadows. The only confirmed information so far is the game's platform, Xbox 360, meaning it will probably launch sometime next year.
The image seems to show a man in chains, which could point to a prequel, showing how Marcus ended up in jail.
A 4th Gears of War title this generation is certainly unexpected, with many people believing the series would never see the light of day again. Gears of War has always been a big seller though, with Gears 3 shifting three million units in its first week alone.
Are you excited for another Gears of War game on the Xbox 360, who do you think is in the shadow?