See new Civilization V Expansion Pack in new Launch Trailer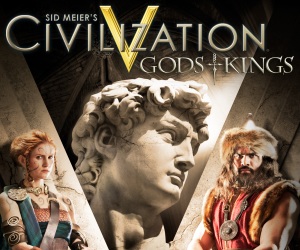 Developers Firaxis Games and Publisher 2K Games have released a launch trailer for Civilization V: Gods & Kings. The long-awaited expansion pack will hit retail shelves this week, and the new video shows gamers some of the societies and time periods that will be involved in the new game.
To find out a bit more about what the game is like, check out the full GodisaGeek.com review here, where the title came away with an impressive score of 9/10, and our writer, Ryan Sandry, commented that:
If you were a big fan of Civilization V, then the experience that faces you in Gods & Kings is an excellent one, with new civilizations and new scenarios providing great variety. Adding to that, the reintroduction of Religion and Espionage and you'll soon see how those who were alienated by the warmongering feel of Civilization V will feel that there is something to bring them to try this new expansion. Although it still caters to the warmonger, the peace-keeper will now find a welcome home once more, even if the limited scope of the changes may still exclude a small minority from enjoying the game.
See the launch trailer below:
Civilization V: Gods & Kings launches exclusively on PC on June 22nd 2012.
Civilization V: Gods & Kings