E3 2012: Nintendo Reveal the Miiverse Online System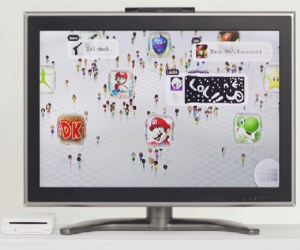 Nintendo were way behind the curve when it came to online services with the Wii, is that all about to change though as Miiverse is unveiled.
The Miiverse is a network communication system that allows players to share experiences, discuss games, and discover new content.
The simple Mii's don't seem to have had much of an upgrade for their Wii U debut, which is a same given how much you'll be seeing them. The initial screen players will see when using Miiverse displays the most popular games and applications with Wii U users.
Interaction with other users is the main focus, with Miiverse allowing players to post highscores and talk about different games. The Miiverse will be accessible seamlessly throughout the Wii U experience, whether you're in-game or watching a movie.
In a bold move for Nintendo the Miiverse will be accessible via PC, Smartphones, and tablets, as well the 3DS. Although gamers will have to wait till sometime after launch for it to be available outside of the Wii U itself.
What do you think of Miiverse, what other online features do Nintendo need to include with the Wii U?