Wreckateer Review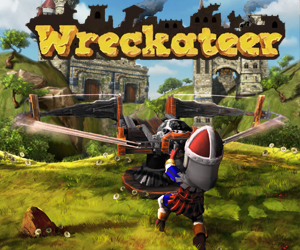 Game: Wreckateer
Developer: Iron Galaxy Studios
Publisher: Microsoft Studios
Available on: Xbox LIVE Arcade Only with Kinect
It's difficult to play Wreckateer and not picture yourself flinging birds at pigs, let's just get that out of the way up front. Although, it's safe to say that Iron Galaxy's Kinect title is more akin to Angry Birds' inspiration, Crush The Castle. The "fire things at other things to make them fall down" genre is forever growing and Wreckateer is the latest one on the market. It's certainly not one of the better ones though. Give me a feathered friend and slingshot over a ballista anyday of the week.
The second offering in this year's Summer of Arcade – the first being Tony Hawk's Pro Skater HD – sees the player assume the role of an apprentice Wreckateer working for two Alan Sugars of the wrecking world. Your job is to demolish castles that have goblin infestations, whilst under the tutelage of your two mentors; Wreck Wreckington and Tinker.
Wreck and Tinker are unfunny twits, plain and simple. Wreck especially, as he tries to bring humour to the table and fails miserably. Both have hybrid American/Irish/Yorkshire accents; leading to unintentional moments of comedy when you expect them to offer you an Ambrosia Rice and a pint of Guinness simultaneously. Their models look brutal, sound terrible and their audio is so badly mixed that it distorts at times. Thankfully, the world you fling your balls around in isn't as ugly, but it's still generic, lacking any real life and is terribly dull.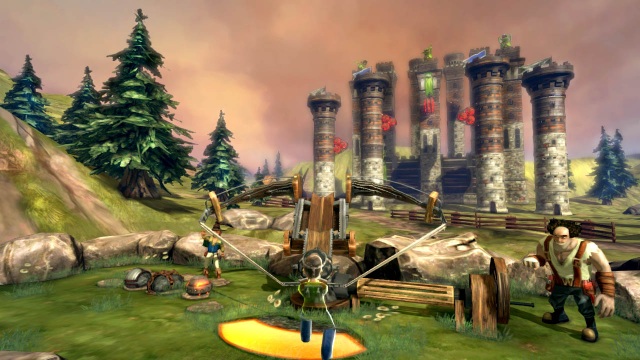 With regard the mechanics, they do at least work. The Kinect has been a finicky tool throughout its lifespan, but here it's used well enough. You step forward and pull your hands in to your torso to grab one of your projectiles, then go backward in your virtual space and shoot your arms out in a T-shape to let the missile-like sphere fly. It's a simple practice that anyone can gather quickly, which is commendable.
Additionally, the amount of shots on offer add some variety to how the player can approach different fortifications; six in total. They range from the Basic Shot (exactly as described) to a Flying Shot, which you control with your arms outstretched, doing your best Boeing 747 impersonation. There's also a Speed Shot, which is the same as the basic shot, but once activated it becomes bullet-like. Some of these are more fun than others and also more useful for racking up points, but shot types cannot be changed in levels, you take what you are given.
In Wreckateer, points mean medals. On each level, the player will get a ranking of either bronze, silver or gold, based on their wrecking abilities. It's not as simple as just aim and fire either. There is a skill to gaining more points, like ricocheting off of a bridge and into a castle's wall, or taking down a goblin while you destroy the squatter's dwelling, which will in turn give the player a Mulligan, or free shot to use whenever you so wish. On occasion, you will get high scores out of pot luck, but there is more to this game than just firing willy-nilly.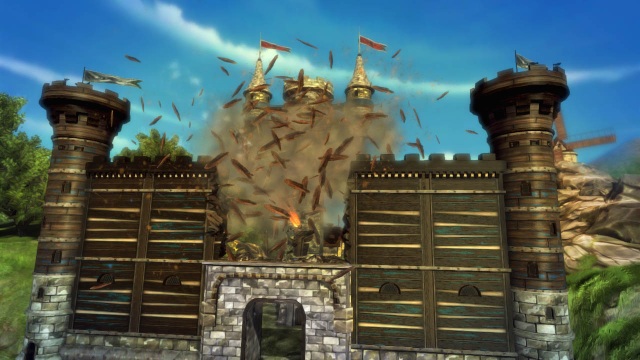 Each shot can be manipulated after firing by waving your arm in a certain direction across the face of the rock demolishing globe. This is one facet of the controls that is poorly implemented. Mistakes will be made by players wildly attempting to wave the ball in one direction, only to be pushing the missile in another. This gets annoying when you're not getting the desired effect. You'll also need a large living room to set up for Wreckateer. It's a game that demands a large playing space, so rearrange that furniture before you start playing.
Wreckateer also has a bit of meat on its bones, with 60 levels on offer to keep the player busy. The difficulty most definitely ramps as the player progresses through the title, but at a comfortable pace. The first few levels are basically tutorials, as the Kingdom's resident comedy duo take you through the steps you'll need to take to become a competant wrecking machine, before getting to the more difficult stages you'll encounter. There is a local multiplayer option too, if you can find a friend, family member or complete stranger to play this with you. On top of that, you'll gain avatar rewards through the new Avatar Famestar programme, which gives the player specific challenges to complete for hats and other material things to place on your fake Xbox-man.
VERDICT: A game cannot be praised for actually working, that is a requirement first and foremost. After realising it works, we ask ourselves if it's any good. Wreckateer works the majority of the time and the basics are easy to understand, but it has issues like most Kinect titles, even though it uses the motion sensor much better than some titles. However, Wreckateer is not the pinnacle of the 360 camera-come-microphone's library. Not by a long shot.
Wreckateer is clearly aimed at kids, yet it's slow, has some over-complicated shots, an unfunny script and a bland appearance. All of these factors would make any child lose interest after ten minutes. This is not Once Upon A Monster or Happy Action Theater, which are both excellent uses of the Kinect for the younger audience. Sure, the controls basically work, but that doesn't translate into greatness, whatever your age.