Play Black Ops 2 Multiplayer at Gamescom or Watch Live on Xbox 360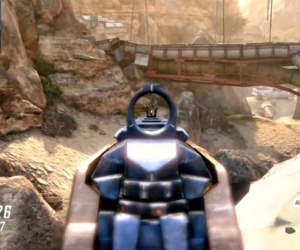 Black Ops 2's multiplayer offering will be playable for the first time ever at Gamesom next week, if you're not attending don't worry you can still catch the action on Xbox LIVE.
Gamescom kicks off next week on August 15th, if you're lucky enough to be attending head on down to the Black Ops 2 booth (A21/B30- A31/B30).
If you can't get over to Germany, you can watch the world premiere from the comfort of your sofa, via Xbox LIVE. Major Nelson and AceyBongos will be on hand with exclusive interviews and of course, live gameplay, ensuring you don't miss a thing.
Thibaud de Saint-Quentin, CEO of European Publishing at Activision, said:
With more than a quarter of a million visitors expected over four days, Gamescom provides the perfect opportunity to reveal the newCall of Duty®: Black Ops II multiplayer to European players and gaming fans from around the world. Gamescom 2012 will be the most exciting and engaging to date.
Treyarch broke cover on Black Ops 's2 multiplayer just a few days ago, with this reveal packed trailer.