Sharkoon Nightwriter Review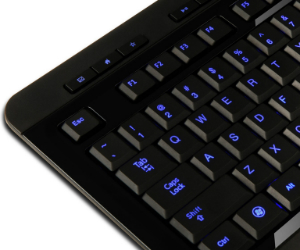 Product: Nightwriter Keyboard
Manufacturer: Sharkoon
Price: £24.99
The keyboard is the main weapon of choice for a PC gamer, coupled with a decent gaming mouse you can't go far wrong when the hordes of enemies come streaming towards you in whatever First Person Shooter, Third Person Shooter, or any other game that you happen to be playing. Despite what people might say, having a decent keyboard can often mean the difference between life and death, or that elusive high score you might be after to prove yourself better than your friends in your favourite game.
The Sharkoon line of peripherals have always been known for their high build quality, often blurring the line between quality and cost, the Sharkoon devices have never really been out of reach in terms of their cost for the average gamer. The Skarkoon Nightwriter Keyboard is another peripheral that doesn't cost the world, only coming in with an RRP of £24.99, but that doesn't mean that you're getting a lesser quality product.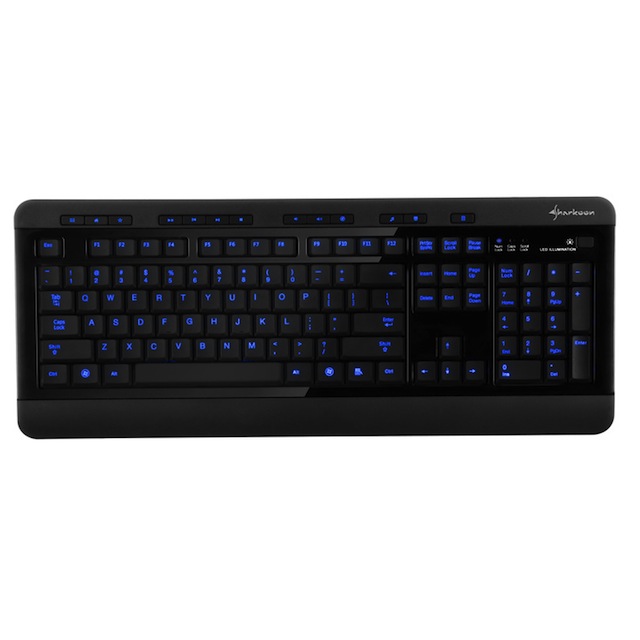 It'd be difficult to describe the Nightwriter as a "gaming keyboard", because there's none of the usual features that would garner such a title, no customisable macro keys, no pass-through ports for a headset or USB's, but that doesn't mean that gamers wouldn't enjoy using the keyboard to play the titles in their collection. The first noticeable difference between the Nightwriter and other keyboards that a gamer might use is that it has a relatively low profile. This means that it's a perfect keyboard for people that do a lot of travelling, it's a very easy keyboard to stick in a backpack with your gaming laptop and travel wherever you may want without having to sacrifice decent gaming peripherals. Everything you could want from the keyboard is permanently attached (even the palm rest) so there's absolutely no worry of anything accidentally breaking away from the device during transit.
One nice feature about the Nightwriter is the fact that the entire keyboard is backlit, which is where its name comes from. Perfect for the night-gaming that we all partake in from time to time, or even if it's just writing into the early hours of the next morning like any university student will tell you is the norm. There's no option to change the colour of the backlights like there may be on some of the higher end keyboards, but if that' not something that you're particularly bothered about and actually being able to see the keyboard is more important than what colour you can see it in, then you could save yourself a whole heap of money by getting the Nightwriter instead of one of those more expensive options. If you're worried about the power consumption of the keyboard, having those lights on all the time, then there is a little button in the top right hand corner of the peripheral that enables you to turn the lights on or off at your own leisure, though the letters on the keys are almost the same colour as the keys themselves, so unless you're a touch typist and can type without even looking at the keys, then you're going to want to leave the lights on in order to be able to see anything at all.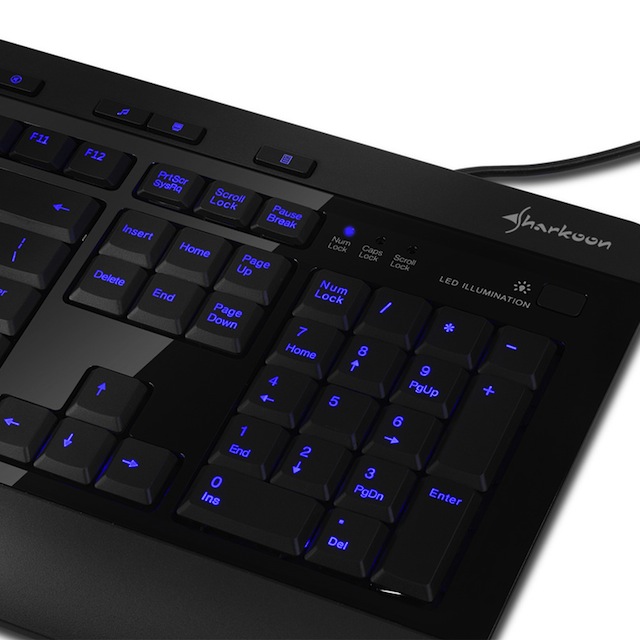 As has become relatively standard with keyboards nowadays, the Nightwriter has a selection of media keys along the top. These keys work perfectly fine on almost any computer just using the plug and play feature of the last couple of Windows operating systems. Plug the device into your computer of choice and after a couple of seconds the drivers will be installed and working as expected. You'll be switching between your email application, internet browser and music library like a pro. Just be sure that you're not doing it while you're playing games; that could be bad.
FEATURES:
LED illuminated keyboard
3-block standard keyboard layout
Switchable illumination
13 additional multimedia keys
Low-profile key design
Palm rest
Adjustable tilt-legs
Supported operating systems: Windows XP/Vista/7 (32 and 64 bit)
SPECIFICATIONS:
Connection: USB
Cable length: 150 cm
Number of keys: 105+12 multimedia keys
Dimensions (LxWxH): 465x189x25 mm
Weight: 808g
Input power (DC): 5V
Life span of EL: 10,000 hours
Operating temperature: 0°C ~ +50°C
Storage temperature: -22°C ~ +65°C
VERDICT: While the Nightwriter is a nice, functional keyboard, there's almost nothing about it that makes it useful as a gaming keyboard; aside from the backlit keys. That being said, if you're in the market for a high-quality, but low price, keyboard that will be able to go with you wherever you may be travelling, and survive through all the hardships that you might put it through while still being as good of a peripheral as you would expect at this price point then you could do much worse than the Sharkoon Nightwriter. It's absolutely no-frills, but it's at a no-frills price point and from a manufacturer who you can trust. Win, win in my book.