Ace Attorney 5 will see the Return of Phoenix Wright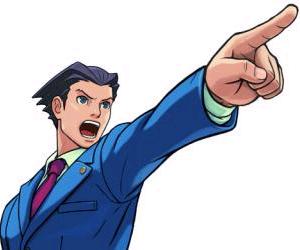 Capcom have revealed that they are now working on a fifth installment in the Ace Attorney series, and this will see the return of fan-favourite, Phoenix Wright.
In Japanese gaming bible Famitsu, Capcom revealed this news, along with a few early screenshots. Phoenix had left the series at the end of Ace Attorney 3, retiring from practicing Law, but it looks like something has brought him back into the courtroom.
The game will be a Nintendo 3DS exclusive, and rather than the hand-drawn 2D backgrounds and sprites of the previous games, this title will see fully 3D graphics in the series for the first time. The creative team have stated that this will allow for players to manipulate the facial expressions of characters during cases.
Trusty sidekick Maya Fey doesn't seem to be returning with Phoenix though, as it seems that a new female companion will be joining him – a mysterious girl wearing yellow – who will be important in the game, as we start off with an explosion in the courthouse. It will be interesting to see how the story ties in to the series, and just why Phoenix is returning – he has been sorely missed, as he was the core of the series, and the fourth game and the two investigation spin-offs both couldn't match the usual Phoenix Wright standards without him.
The game will be demoed at the Tokyo Game Show this year, so we will be able to find out more then.
On a related note, Professor Layton vs Ace Attorney is still in development for release later this year, and is being developed as a crossover between Level-5 and Capcom. Check out some of the details about that title here.
Ace Attorney 5 will be released exclusively on the Nintendo 3DS, but no release date has been named as of yet. Professor Layton vs. Ace Attorney is scheduled for a 2012 release.
Source: Andriasang.com