Multiplayer Madness as Ravaged Hits Steam Today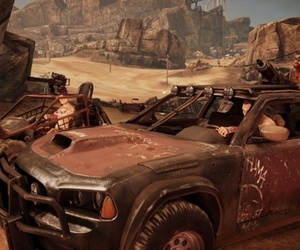 Ravaged, a new MMO from 2 Dawn Games and Reverb Publishing, is available today on Steam – and we've got the launch trailer for you.
Described as "Team Fortress in vehicles", Ravaged will see you blowing chunks out of other players on foot, in vehicles and in the air in an explosive online arena protected by FairFight, a cheat-preventative developed by GameBlock and designed to stop hackers spoiling your matches.
It's got pedigree, too – the team behind it is comprised of veteran designers and developers who have previously worked on titles like Battlefield 2, Desert Combat and Frontline: Fuel of War. The post-apocalyptic world caters for 32-player dust-ups filled with brutal, fast-paced combat.
Check out the trailer below for some intense, explodey action.
Ravaged is available to download now from Steam, 2 Dawn Games, GameStop, Gamers Gate, Rain, Origin and GameFly. It is currently priced at £24.99.