Rocketbirds: Hardboiled Chicken Now Available on Steam!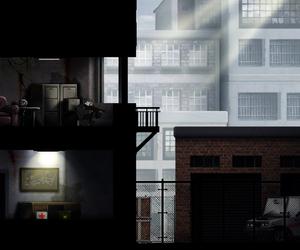 If you're a PC gamer who has ever thought that what the world needs is more side-scrolling platform shooters featuring highly-trained chickens blasting bloody holes in evil penguins in order to bring down the regime of an evil penguin tyrant, then it's your lucky day.
Ratloop Asia and Reverb Publishing have released last year's Rocketbirds: Hardboiled Chicken onto Steam, so now PC owners can experience the former PSN-exclusive in all its enhanced glory. There's a new Hard mode, and for the first time the ability to play the separate, purpose-built co-op campaign either on or offline.
Rocketbirds: Hardboiled Chicken is the follow up to a popular flash game, and follows the titular head-bobber in his quest to bring down evil dictator Putzki by murdering hundreds of evil birds. The co-op campaign sees you and a friend take on the roles of a pair of Budgie commandos and attempt to rescue the President's daughter. Having sold well and garnered some decent scores on its PSN release, Rocketbirds: Hardboiled Chicken was always a likely candidate for a port. Here's a wee trailer to whet your appetite for fowl play (chortle).
Rocketbirds: Hardboiled Chicken, developed by Ratloop Asia, is available on PC now, and can be downloaded for $9.99 from Steam, Rain, GameStop or GamersGate.