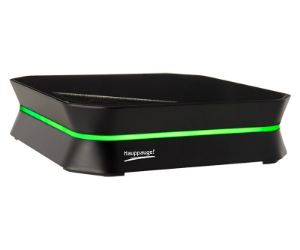 Product: Hauppauge HD PVR 2
Price: £128.20
Any self-respecting gamer has thought about recording one of their gaming sessions before. It could be for simple reasons such as wanting to show a friend how to get past a certain area of a game, it could be just to show people what the game looks like and how it plays, or it could be to show that one person that you totally obliterated in Call of Duty just how badly you owned them; over and over again. Whatever your reasons for wanting to do so, we've all wanted to record our game footage and, thanks to devices such as the HD PVR 2 from Hauppauge, we can do just that with great ease.
If you're one of the people, like me, who used the first HD PVR, then the first thing that you're going to notice when you get the HD PVR 2 out of its box is the fact that it is so much smaller than its predecessor. It's about half as deep and a couple of centimetres smaller around all the other dimensions, meaning that you'll have no problem setting the HD PVR 2 up on your desk, or underneath your TV next to your console, wiring it all up to your TV and allowing it to sit there waiting for those perfect gaming moments to come. The new form factor means that it's totally inconspicuous and you'll be able to find many more places to hide it if you don't want it to be in full view all the time; those bright lights can get a little bit annoying if you're used to playing your video games in a room that's as dark as possible.
For me, the biggest addition to the HD PVR 2 was the ability to connect both the Xbox 360 and the PlayStation 3 to the same capture device at the same time. The PlayStation 3 doesn't allow its image to be sent over the HDMI cable, so the only way to capture from the Sony console is to use the component cable and the adapter (which is provided in the box). The Xbox 360 doesn't have the same qualms as its competitor and allows the user to transfer the image over the HDMI cable without any problems whatsoever. All of this means that you can have the Xbox 360 attached to the HD PVR 2 via HDMI and the PlayStation 3 connected via component, both at the same time, and just switch between the two using the bundled software installed on your PC. A physical button or switch situated somewhere on the device to enable the user to manually switch between the input sources would have been a welcome addition, and something that would have totally eradicated a problem that I experienced and will talk about later, but it was not to be; maybe for the HD PVR 3.
When you first get the HD PVR 2 out of its box, there's another thing that you're going to notice about the device itself; the fact that it's got a massive button on the top of it. This is the record button, and if you're using a Windows PC and the bundled software, you can hit this button to start recording instead of worrying about reaching for the mouse and clicking on the record button yourself. A single tap will start the recording and a second one will stop it, just as you'd expect. This button doesn't currently work with the software that Mac users will be buying in order to use the HD PVR 2 but nevertheless, it's a nice feature to have for those people than can put it to good use; which is the vast majority of video game players.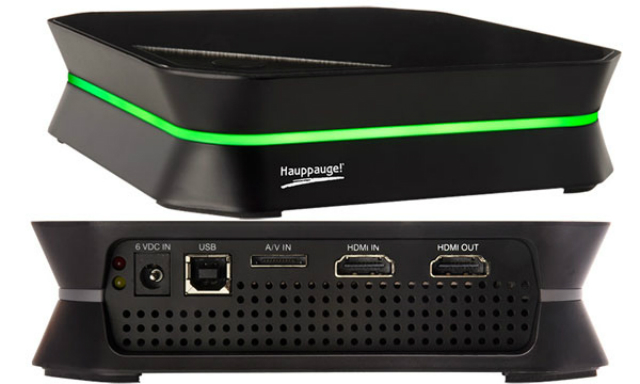 One of the main selling points of the HD PVR 2 is the fact that you can play your console, whose image is being passed through the device to your TV, while the PC you've currently got it connected to is switched off. This means that you can permanently leave the capture device connected to your PC and just use it whenever you want, never having to turn your PC on just because you want to play the Xbox 360 (which, when you say it out loud, sound a little ridiculous). That being said, I did have a few problems with this aspect of the device. As I mentioned earlier, you can have the PlayStation 3 and the Xbox 360 both connected to the HD PVR 2 at the same time, using the bundled software – or the equivalent software for the Mac, which isn't bundled with the device – to switch between the two sources. My problem was that when the PC was off there was no way to switch between these two sources so while technically you can play your console while the PC is turned off, if you want to switch over to a different console, which is also plugged into the device, you're going to have to turn your PC on in order to change the source; then shut it back down if you so wish. On a couple of occasions I also found that while my Xbox 360 used the HDMI input, the HD PVR 2 would randomly go back to the component input, leaving me staring at a blank screen until I turned the PC on in order to change it back. This only happened about 5% of the time, the rest of the time it works like a charm and does exactly as it says on the box, but it happened enough times for it to start getting a little bit frustrating.
HD PVR 2 Product Features:
Uses H.264 encoding in HD to capture your game play in stunning HD.
Uses HDMI to connect to your TV set from either Xbox 360 or PS3. Setup is a snap!
Comes with a 6 ft long HDMI cable to connect to your Xbox, and a Component Video cable to connect to your PS3.
With no delay passthrough, so you can play your games while recording.
With one click you can share your game play with your friends and fans on YouTube.
Technical Specifications:
High definition H.264 encoder, at datarates from 1 to 13.5 Mbits/sec
Input: Xbox 360 (unencrypted HDMI)
Input: PlayStation 3 (Component video)
Output: HDMI (no delay passthrough)
Video resolutions: 480p, 576p, 720p, 1080i recording, with 1080p60 passthrough
Interface: USB 2.0
Dimensions: 6.0 × 6.0 × 1.56 in
Weight: 5 oz
What's in the box:
HD PVR 2 Gaming Edition HD recorder
Installation CD-ROM
6′ HDMI cable to connect to your TV monitor
3′ HDMI cable to connect to your Xbox 360
6′ PS3 cable and Component video adapter
6′ USB cable
Quick Install guide
Power supply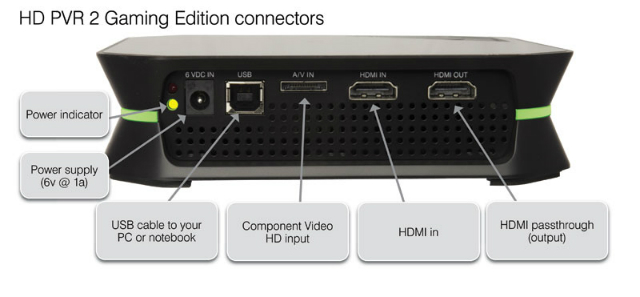 VERDICT: The HD PVR 2 is a serious piece of hardware and it a massive improvement over the original HD PVR. The video didn't cut out at all, which is something that can't be said about the previous model, and the smaller form factor means that you're going to be able to put it anywhere you want and not worry about it ever being in the way. The bundled software is adequate but not particularly impressive, often feeling a little but clunky and awkward to use and, if you're a Mac user, you're going to have to open your wallet again anyway and buy your own capture software as only a Windows version is included in the box. The devices itself plays well with Apple's operating system, installing without problems in terms of the hardware itself, only leaving me to find an alternative to the capture software.
The HD PVR 2 does one thing: Captures video of your games. But it's undoubtedly one of the best ways to do this currently on the market. Once it's set up and going you're hardly going to have to touch it again, and you'll be able to create some impressive looking video content without much effort at all. If you're wanting to start capturing video gaming history for yourself, you needn't look any further than the HD PVR 2 from Hauppauge.