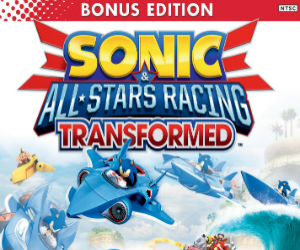 With it being just a matter of weeks before Nintendo brings down the Wii U curtain once and for all, Sega continues to build up to Sonic & All-Stars Racing with the release of a Wii U specific trailer.
The trailer shows off some of the modes and features that will be exclusive to the platform and as expected, many of the platform exclusive features centre around the Wii U GamePad.
Sonic & All-Stars Racing Transformed, like its predecessor, is a mascot-based kart racer. Yep, it's one of those games.
The Wii U version of the game will feature an exclusive 5 player split screen mode, in which the player with the gamepad plays via it's built in screen, while the other four players use the TV, which is pretty nifty. It will also feature motion controls, as well as a couple of other game modes not possible on other platforms. Check it out for yourselves in the trailer, below.
Sonic & All-Stars Racing Transformed is set to release on November 16 in Europe and November 20 in North America for PlayStation 3, Xbox 360, PlayStation Vita (December 11 in NA), Nintendo 3DS (December 11 in NA). Wii U and Windows PC versions will be coming at a later date