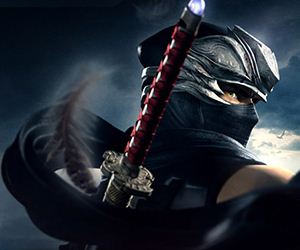 Tecmo Koei have announced that the sequel to PS Vita exclusive (sort of) Ninja Gaiden Sigma Plus is heading to Sony's portable dazzler on March 1.
The recent refurbishment of Ninja Gaiden 3 for the Wii U "Razor's Edge" port is indicative of Team Ninja's desire to make Ninja Gaiden fun again after the poor performance of the largely broken NG3 on Xbox 360 and PlayStation 3. The next instalment in the franchise is a follow up to last year's Vita launch-title, and shows a similar dedication to fun and games.
Ninja Gaiden Sigma Plus 2 will pick up shortly after the events of Sigma Plus and see iconic shadow-botherer Ryu Hayabusa tracking down the Black Spider Ninja Clan who stole the Demon Statue and intend to use it to resurrect the Archfiend. If you hadn't guessed it, that's a  Bad Thing.
Once again integrating the touchscreen and rear touchpad as well as the Vita's motion control functionalities, Sigma Plus 2 aims to correct some of its predecessor's faults by tightening the controls and adding a handful of new modes.
Ninja Race, for example, is a contest of speed and reactions, asking players to go head-to-head on a specially-designed obstacle course, where they can choose to "strategically charge through" or "kill enemies for boosts and points". The Combo Kill Counter keeps track of how many kills you're chaining together, and special essences dropped from enemies will affect either the countdown or Ryu's performance. "Tag Missions", on the other hand, allow you to take control of two characters and switch between them at will to overcome obstacles, with the secondary character controlled by the AI.
Judging by the screens and trailer, Sigma Plus 2 will deliver more of what we saw in the original, which is good news as, despite a handful of issues, Ninja Gaiden Sigma Plus is a decent game. The sequel also offers pre-order DLC that grants extra costumes for the female characters, Ayane, Rachel and Momiji, if you're interested in that kind of thing.
Check out the trailer to see some of the Vita's functions in action.
[nggallery id=1259]
Ninja Gaiden Sigma Plus 2 will be available on the PlayStation Vita in Europe on March 1.