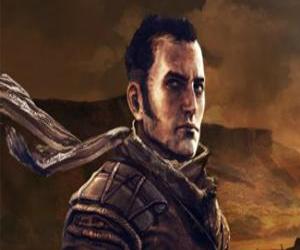 The rather unexcitingly-named Mars War Logs is the latest offering from German development outfit Spiders, the team partly responsible for last year's above-average yet completely overlooked hack 'n' slash fantasy Of Orcs and Men.
This new sci-fi RPG tells the story of Roy Temperance, a talented renegade journeying through the cyberpunk wasteland of Mars a century after a terrible war laid waste to its various colonies. In this Red Faction / Rage-inspired world, water has become the most valuable commodity, and powerful companies wage private conflicts over its control, allied with dangerous technomancers and vicious mercenaries.
Boasting dynamic, real-time combat, skills and perks, customisable gear and upgradeable equipment, Mars War Logs look like it could be a fairly deep affair. There's also the fact that Roy can influence – through actions and dialogue – almost everyone he meets, and the universe will adapt accordingly. We won't pretend this will be a contender for Mass Effect's crown, but Spiders showed some real promise with Of Orcs and Men, and there's a good chance that Roy's story will deliver the goods when it hits XBL, PSN and Steam this Spring.
Check out the trailer and brand new screenshots below.
[nggallery id=1209]
Mars War Logs will be available on Xbox Live, the PlayStation Network and Steam in the Spring. For more information, visit the official site.