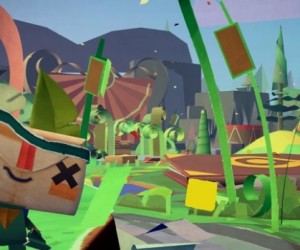 It's easy to think of Media Molecule as "The LittleBigPlanet Guys", but back in August at Gamescom, they announced a new IP for Sony's PS Vita, Tearaway.
Today we've got a new trailer called "Welcome to Sogport", which is one of the stops on your delivery adventure in Tearaway, a mysterious island marooned in a deep sea of glue, inhabited by some fishy folk with an obsession with the local wildlife.
On the PlayStation Blog, James Spafford, the Community Manager at Media Molecule, tells us that when you start your adventure, you can customise the game, choosing which messenger will accompany you on your journey, either ioto or atoi. He also informs us that you can make your own Wendigo mask using this guide.
So let's have a look at the trailer, and some new screenshots, too.
[nggallery id=1264]
Tearaway doesn't yet have a release date, but will be coming to PlayStation Vita only.