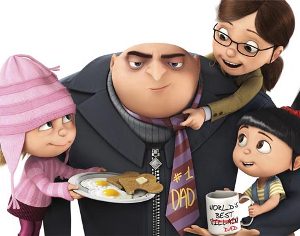 Gameloft have joined forced with Universal Pictures and Illumination Entertainment to create and all-new free-to-play game based on the massively successful animated movie, Despicable Me.
The game, which will be available for Android and iOS devices, will help draw attention to the cinema release of Despicable Me 2, which is due in theatres on July 3 2013. Gameloft's Senior Vice President of Gaming says of the collaboration: "Despicable Me is one of the most adored film franchises in the world, and its upcoming sequel is one of the most highly-anticipated blockbusters for this summer. This is a perfect partnership for us that will drive success for both parties by having the talent, dedication, and passion needed to make a high-quality game for multiple platforms, and a proven success rate in translating popular IP's into mobile games."
Details on the actual game are thin on the ground, with only the usual hyperbolic assertion of "innovative and highly addictive gameplay", so we'd expect a puzzle-platformer or something similar.
Created by Chris Meladandri (Ice Age), Despicable Me 2 will continue the story of reformed supervillan Gru (played by Steve Carrell), his three adopted daughters and the hapless Minions.