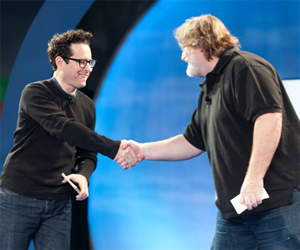 Half Life and Portal movies may be just around the corner after a surprise announcement during Newell and Abrams' DICE 2013 keynote address.
As reported on PCGamesN, JJ Abrams, creator of Lost and director of the recent Star Trek reboot, commented that his production studio Bad Robot, has game ideas that it hopes Gabe Newell's studio Valve, can help realise.
The keynote focused on numerous elements of storytelling in movies and games, particularly those in which the medium's differed.
Wired.com noted their comments. Abrams seemed concerned with silent protagonists saying, "Players are often asked to imprint themselves or relate to insanely mute empty vessels," before playing a clip from Half Life 2 showing the player simply listening to a pair of character's talk.
To counteract, Newell commented on a movie viewer's lack of agency, noting that in Abrams' film Cloverfield, most audiences would simply wish the actor would drop the camera and run away; games give the player control over the pace and their actions within the world.
It was almost surprising then, given the nature of the opinions, when Abrams revealed "There's an idea we have for a game that we'd like to work with Valve on."
This was then followed by Gabe saying, "we're super excited about that and we also want to talk about making movies, either a Portal movie or a Half-Life movie."
Valve's properties have translated well to film in the past, both in their official Team Fortress 2 skits and in fan renditions such as Outside Aperture, so Bad Robot's movies have a chance to be excellent given the pair's mutual partnership. I'm more interested in Abrams' game concept though. Partially because I want to know how much lens flare he can squeeze into a game, but also because film directors can come up with some rather unexpected game concepts. Spielberg designed Boom Blox afterall…