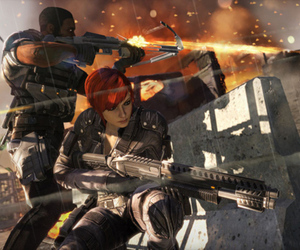 We've learned via US gaming website Polygon that the shooter formerly known as Overstrike has been pushed back to late Spring / early Summer.
According to the report, EA's Chief Financial Officer Blake Jorgensen explained that Fuse's release has been moved back to Q1 of their 2014 fiscal year, which runs from April 1st through to June 30th 2013.
Insomniac later confirmed through their Twitter feed that "it's not a big delay from March, and it's more polish time for us to make a better game."
Set in a futuristic world where everyone is at war with everyone else over the titular Fuse – a precious alien energy source powerful enough to divide nations – the game puts you (and your co-op buddies, should you choose) in command of special operations team Overstrike 9.
An interesting set-up and a gorgeous, cartoonish art-style are enough to get us excited – and a little delay never hurt anybody, right? Right? Here's the announcement trailer, in case you missed it.
Fuse is due for release on Xbox 360 and PlayStation 3 in the Spring.