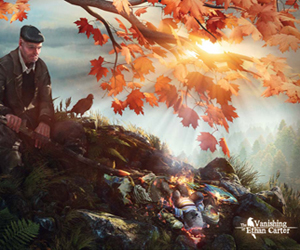 Among the names that left Epic Games toward the tail end of last year were a few People Can Fly devs, most notably Adrian Chmielarz, who was co-owner of the studio up until his departure. He wasn't the only People Can Fly staffer that left, as Andrzej Poznanski and Michal Kosieradzki also jumped to form new studio; The Astronauts.
Today, they've revealed their first game under their new guise, which we saw thanks to Polygon. The Vanishing of Ethan Carter is a story of a kidnapped boy, whom players are attempting to track down, whilst following a trail of dead bodies. You assume the role of a detective who has supernatural-like powers as he can "visualize scenes of lethal crimes".
Chmielarz and the team are set on creating something special, particularly when it comes to narrative.
"What we care about the most is that the players feel like they're really there. Immersion is our number one priority. It's a game about exploration and discovery. We're not abandoning the gameplay — on the contrary: we're trying to strip it down to the bone and make sure it's always meaningful and truly makes the experience better."
When speaking to Polygon, Chmielarz was questioned on whether or not The Vanishing of Ethan Carter is an adventure game;
"The thing is, I don't know of a game like this. Not that we're inventing a completely new genre — we use many established solutions — but the final mix is quite unique. If I really, really had to give an example, I'd say imagine an r-rated Dear Esther with gameplay."
Yes, this is a new studio, but a lot of the major figures are noteworthy. This game is coming from a couple of very experienced guys and with the "r rated Dear Esther with gameplay" pitch, it's difficult to not get a little excited.
You can check out a little teaser video that the studio released, below.
The Vanishing of Ethan Carter will be released in 2013 for Windows PC