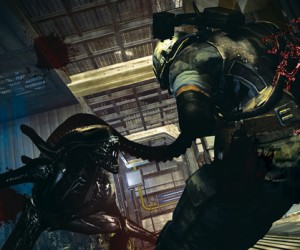 SimCity may be the talk of the land at the minute, but there was a time when Gearbox was the villain on the block.
Yes, the Aliens: Colonial Marines story is a long one involving Gearbox passing the buck to TimeGate Studios and the demo footage looking better than the final product.
Through Eurogamer – We've learned a patch to fix many of the niggling problems has been released on Xbox LIVE today, with PS3 and PC patches to follow – according to the Gearbox Twitter account. Certain things like the flamethrower's constant firing, dodgy VO and players falling through the world and disappearing to their unceremonious death have been addressed in this update. You can see the full patch notes, courtesy of Gearbox Software, below.
General

Addressed an issue that could sometimes cause co-op player revival to not work under certain circumstances.
Addressed issues with players not spawning into a level properly.
Fixed a marine player invincibility exploit.
Resolved several instances where players could walk or fall outside of maps.
Fixed an issue that could cause localized text to sometimes display incorrectly.
Addressed an issue where weapon ammunition was not always highlighted properly.
Addressed some issues where multiplayer / co-op clients could see interactive objects displayed in a different state.
Fixed a bug affecting voiceovers with the Firing Range bonus content.
Addressed an issue where Ripley's Flamethrower (bonus content) would sometimes fire continuously without player input.
Addressed a rare issue that could cause Achievements to not unlock properly.
General user interface improvements.
Miscellaneous bug fixes.

Campaign

Addressed some issues that could cause improper warping for co-op players.
Various tweaks to address instances where NPC characters would not always properly navigate to objectives.
Added safeguards to prevent players from using a weapon in the weapons-suppressed portion of "One Bullet."
Modified Bella and Reid's behavior in "No Hope in Hadley's" to prevent them from spawning at the wrong point.

Versus

Fixed issues that could clients to report inaccurate results and statistics.
Addressed instances where a map would appear to "pop in" when loading into a new match.
Addressed an issue that was could cause stutter when opening the multiplayer scoreboard.
Switching profiles while in a lobby now returns players to the title screen immediately.
Multiplayer teams should now correctly auto-balance between rounds.
New Xeno appearance customization added.
This mentality of "ship a game, we'll fix it after" is becoming far too prevalent. Patches shouldn't be used as a way for developers to finish the game, yet should be used as a way for developers to fix little issues here and there. It's difficult to point out many good Aliens games and for the rabid fans of the series, that's just not good enough. Many, many things went wrong and if you'd like to read about these many, many things, check out Mick's article on the much maligned title.
Aliens: Colonial Marines is available now for Windows PC, Xbox 360 and PlayStation 3