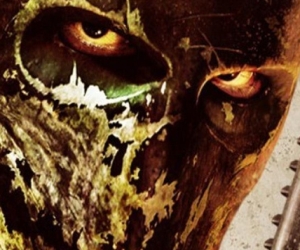 Do you even know who Big Boi and B.o.B are?
You don't have to start questioning your modern day relevancy because these two lads haven't done much in terms of Top 40 tunage in quite some time. You may know B.o.B from his track Airplanes with Paramore singer Hayley Williams and Big Boi was one half of Miss Jackson outfit, Outkast. Now that your up to speed, you have some context for the music video you'll watch in a minute.
Double or Nothing is a new collaboration between the two and the official theme song of Army of TWO: The Devil's Cartel. The video mixes gameplay footage with live action footage of the two as their in-game characters of Charles "Chuy" Rendall (Big Boi) and Anthony "Baker" Barnes (B.o.B). The video starts off with Big Boi getting a text from someone about two girls getting kidnapped by the drug cartel. Said SMS is also in all caps, adding to the severity of the situation.
Since yesterday, a demo has been available on XBL and PSN, giving players a chance to see if the latest Army of TWO is worth their time. One thing that is certainly worth your time is this utterly ridiculous music video.
Army of TWO: The Devil's Cartel will be released on March 29 in Europe and March 26 in North America for Xbox 360 and PlayStation 3