The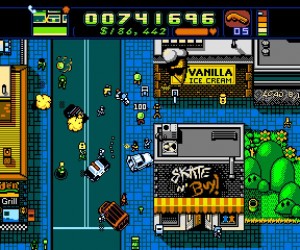 8-bit love affair that is Retro City Rampage has finally made its way to Nintendo's last-gen hardware, yet the GTA inspired title isn't expected to make much cash.
After numerous delays, the timing of this release isn't ideal for developer Brian Provinciano or Vblank Entertainment. However, in an interview with NintendoLife, he said he was determined for his game to come out on a Nintendo platform, as previously announced.
Provinciano was required to to have office space in order to gain access to a Wii dev unit which, "ended up draining a significant chunk of the bank account which I'd saved to for so many years to fund the game's development full time", Provinciano states. Another hurdle was the fact that he needed the game to sell  a certain number of copies before Nintendo would start paying him his share of the game's profits. RCR's creator is fairly confident that the game won't bring in much profit on WiiWare;
"Between the office rent, hardware, insurance, game ratings and other costs, had I not done the WiiWare version, I could've saved around $20,000 – not even including my salary in porting it. And as it stands, virtually no games hit the threshold these days, so it's only being released as fan service. A $20,000 gift to the fans."
In the interview, he also said that many of these problems shouldn't be an issue with Wii U development. For indie developers, let's hope Provinciano is right.
Retro City Rampage is available now for Windows PC, Xbox 360, PlayStation 3, PlayStation Vita and Nintendo Wii