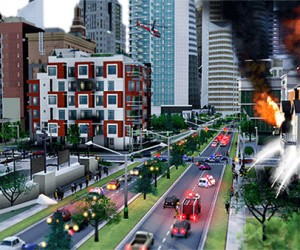 Last Tuesday saw the North American return of the ever-popular city building title from Maxis and EA. The honeymoon period was one of the shortest in history as fans have been tearing their hair out since day one.
Regardless of whether or not you want to boot up SimCity in order to get some "me time", it is mandatory to play the game online and be connected to Electronic Arts' servers. However, just like Diablo III last year, the servers haven't been up to snuff, leading to gamers being unable to play the game whatsoever.
To try and combat this, EA has been turning off so-called "non-critical" features in the game such as achievements, leaderboards and region filters. Shutting down things like leaderboards, yet keeping the always online component seems like a foreign concept to me. Cheetah speed has also been sacrificed – a feature that allows players to slow down, or speed up gameplay. A feature that has also been in SimCity since the very beginning.
Thanks to Giant Bomb, we've seen that Amazon.com has decided to stop selling the digital download of the game, stating; "Many customers are having issues connecting to the 'SimCity' servers. EA is actively working to resolve these issues, but at this time we do not know when the issue will be fixed." The game is currently racking up the 1 star reviews on the popular online shopping site.
In what's probably the most disgusting turn of this story – which we've learned via Polygon, EA is not offering refunds to those that bought the game from their own digital distribution service. This comes after Origin global community manager Marcel Hatam took to EA's Forums and said; "If you regrettably feel that we let you down, you can of course request a refund for your order at [Origin's "contact us" page], though we're currently still in the process of resolving this issue." Hatam's forum post has been edited in the mean time and asks disgruntled SimCity players (using that term loosely as they haven't exactly been playing the game) to "please review our refund policy here". Guess what their review policy says…yep, exactly what the Origin Twitter account said;
"Regarding recent confusion: In general we do not offer refunds on digital download games. Please review our policy"
One person that bought the game from Origin was recently speaking with one of the service's support team and was requesting a refund after stating that those who bought the digital download from Amazon were being refunded. He was told in so many words that it wouldn't be happening. CalebPeters (the person's username on EA's forums) said he would contact his bank in order to dispute the charge for the game and was told; "If you choose to dispute it, your account will be banned." The full transcript of the conversation makes for interesting reading.
The all-seeing, all-knowing Origin Twitter account then popped up again and said;
"Regarding a rumor: We will not ban players for requesting refunds. Please review our returns & cancellations policy"
EA's policy on refunds is to only issue them in special circumstances and the issues with the SimCity servers is not seen as a special circumstance, I guess. It would be funny if it weren't so sad and vile. It could've been predicted from a mile away that EA would struggle with this from the get-go because of the sheer demand of this reboot, but what has transpired is sickening.
As of midnight last night, the game has launched in the UK and…everything seems fine. The official SimCity Twitter account confirmed that a third European server had been added, which probably stabilised the UK launch, some what. MCV has reported that their Nordic site calls the European launch a "disaster", meaning all isn't rosy on this side of the world, at all.
We'll keep you updated on the story as it develops.